Liverpool were putrid in their 1-0 defeat away to Bournemouth, leading to two Reds fans having to dissect the horror on show and what comes next.
Jurgen Klopp's men produced an awful response to the 7-0 win over Man United, producing a pathetic performance on the south coast.
Philip Billing's goal was enough to separate the two sides, while Mohamed Salah blasted a penalty wide, as Liverpool yet again flattered to deceive on their travels.
Here, This Is Anfield pair Henry Jackson (@HenryJackson87) and Adam Beattie (@beatts94) discuss a grim performance and look ahead to Real Madrid.
Our track record discussing these games is dreadful – what did you make of that?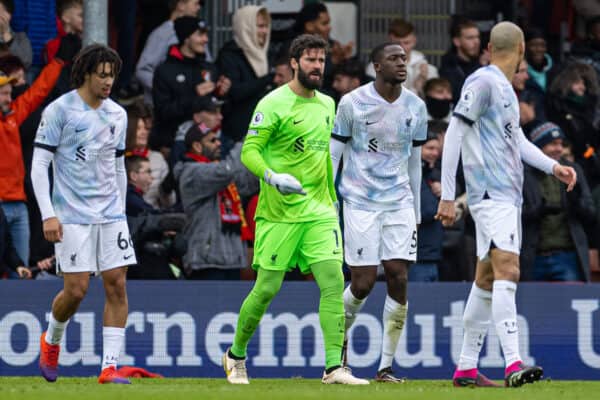 ADAM: It was all a bit weird, but at the same time inexplicably predictable.
We're used to false dawns this season and we've talked ourselves in and out of this top-four conversation more times than I care to count, but this one in particular feels bizarre because it was so avoidable.
We can't blame a lack of confidence when we've just beat Man United 7-0 and we certainly can't be making excuses – the team just didn't show up in that second half and it's inexcusable.
HENRY: I'm with Adam – this is one of the hardest defeats to stomach because I really did think Liverpool were on the road to recovery.
As soon as Bournemouth scored, I knew we would lose, which is a really damning indictment of what this team has become, and it was all so lethargic and predictable.
Liverpool are fine when they play a good team in a big game, but their attitude is simply not good enough in these latter matches.
They are driving me to distraction this season.
Were there any players who you thought were particularly poor?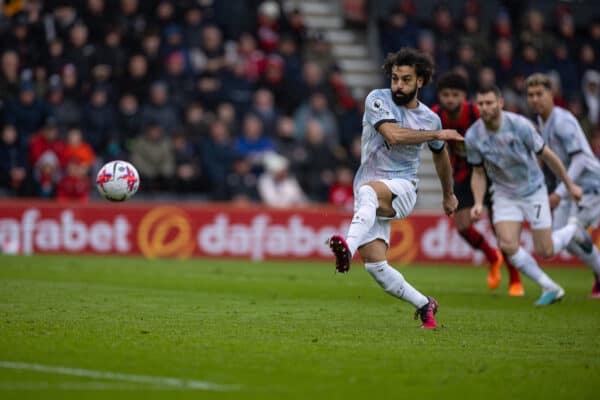 ADAM: He's the greatest defender I've ever seen pull on a Liverpool shirt, but I'm not quite sure where Virgil van Dijk's head was at yesterday.
Mistakes happen to everybody, but the complete lack of intensity was really strange and the goal simply doesn't happen if he is switched on.
At risk of singling out the two players who've given us more than anyone over the past few years, Mo Salah wasn't great either.
You can legislate for it under normal circumstances, but like I said earlier, when you've seen levels as high as the previous Sunday it is really perplexing when players revert to something like that.
HENRY: I couldn't agree more about Van Dijk – I thought he was shocking, quite frankly.
It's hard to be too critical of the best centre-back I've ever seen, but he was so laid-back and lacking intensity, and it seemed to rub off on those around him.
Ibou Konate wasn't much better, while the midfield had little to no control throughout.
It was a sobering day for Harvey Elliott and Stefan Bajcetic, and a reminder that they are still very young and maturing.
As for Salah's penalty, how can somebody so incredible do that?!
Honestly, where do Liverpool go from here?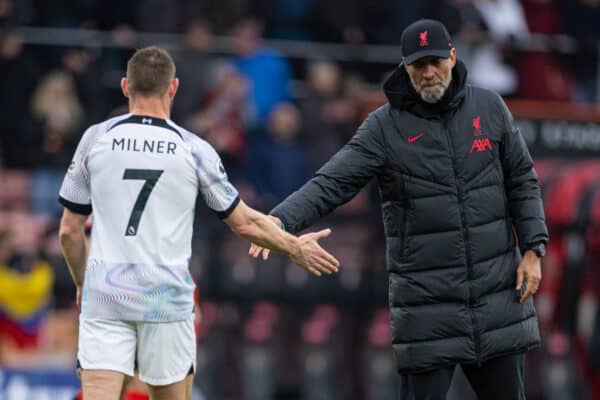 ADAM: I haven't got the energy to lose sleep over a top-four chase anymore.
If it happens, great, but my main concern is getting ourselves into some sort of shape before August and ready to go after everything all over again.
It feels somewhat spoiled and entitled to say it, but the idea of fourth place doesn't quite stir the soul in quite the same way when only 10 months ago we were right in the mix for the lot.
We've got a nice little break from the Premier League now before a hellish run of fixtures in April, and we'll no doubt know a lot more about what these players are about when we get to the other side of that.
HENRY: Yep, this is where I'm at, too.
I've reached the point where I'm almost numb to these results, which is not a good place to be as a football supporter.
There are just too many false dawns now and Liverpool won't find any genuine consistency until the end of the season – let's just see what happens, but I think top four is wishful thinking.
As Adam says, it's a case of getting to the summer and forgetting that this sorry campaign ever even existed!
Do you see any chance of a shock at the Bernabeu?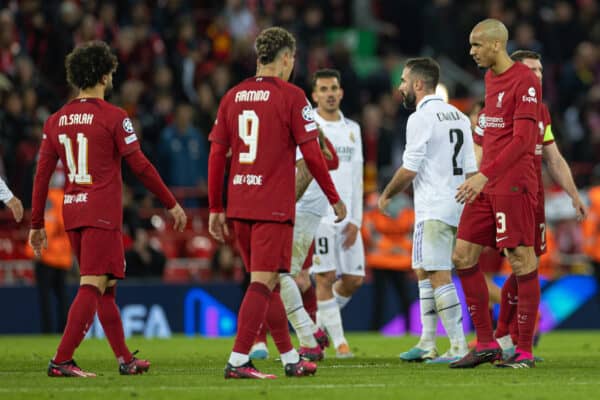 ADAM: Unlike some, the Man United result didn't really change my perspective in terms of what is possible in Spain next week.
A three-goal deficit would seem surmountable at Anfield or if we were up against less of a European force, but it's just too much of a mountain to climb as far as I'm concerned.
Having said that, I'd like to see us throw everything at this game, particularly given the extended break we've got after it.
Injuries aside, there is very little that can be lost from that game, and the whole world to gain.
HENRY: I'll say this now: if Liverpool go through on Wednesday, it will be the greatest result in the history of the club.
But they won't, sadly.
Sorry if that sounds defeatist, but the Reds just aren't playing well enough and they are playing a team with the greatest winning mentality I've ever seen in the Champions League.
If it was at Anfield, I'd be saying there's a very slim chance, but this is another test altogether.
Would you make any changes?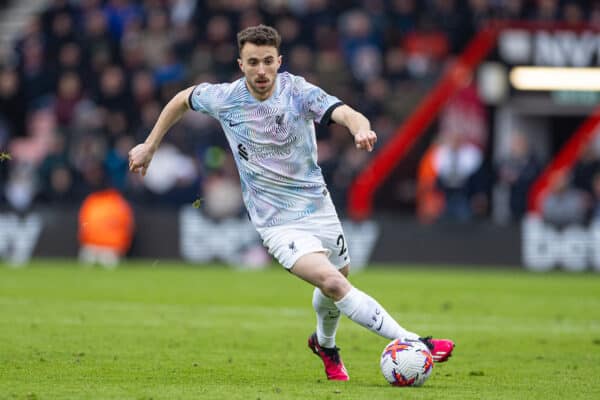 ADAM: On paper, there shouldn't have been anything wrong with the side we started at Bournemouth, which is perhaps the worrying thing.
I'd maybe look at starting Jordan Henderson with a view to having Harvey Elliott to call upon in the second half, but other than that, it's probably our strongest available XI in terms of who we've got available and it makes the result all the more frustrating.
You could maybe make a case for starting Diogo Jota and going all out with four forwards from the start like we did in the second half on Sunday, but it can look a bit messy at times given how narrow all of them like to operate.
HENRY: Sod it, I'm going with four forwards!
As Adam alludes, Liverpool really have nothing to lose here, especially with a break to come, so just go all-out attack and see what happens.
If they get picked off, so be it.
For that reason, I would bring in Jota for Elliott and go with a 4-2-4 formation, probably with Fabinho and Bajcetic in midfield, but I would be tempted to bring in Henderson.
My team: Alisson; Alexander-Arnold, Konate, Van Dijk, Robertson; Fabinho, Bajcetic; Salah, Jota, Nunez, Gakpo