The manner of Liverpool's 5-2 defeat to Real Madrid has got plenty of people talking, but should we really be surprised by their performance?
"End of an era."
"They've got to reinvent themselves."
"That team is finished."
All sentiments you've probably seen floating around since Tuesday night, but it's nothing we didn't know already, is it?
If you've been brave enough to watch most of Liverpool's matches since the turn of the year, you'll have seen them concede three goals to Brentford, three goals to Brighton and three goals to Wolves in the Premier League.
So was it really any wonder that when Real Madrid rocked up at Anfield, the European champions and a team full of winners, they put Liverpool to the sword?
The first 20 minutes of the match offered a glimpse into what Jurgen Klopp and his staff are working towards, and the Liverpool boss is clearly very confident that, with more new additions, his team will be able to show that kind of intensity for the entire 90.
But until those players arrive, there's not a lot that's going to change.
Speaking after the game on CBS Sports on Tuesday, Jamie Carragher hit the nail on the head with these five points…
It's not just new midfielders that Liverpool need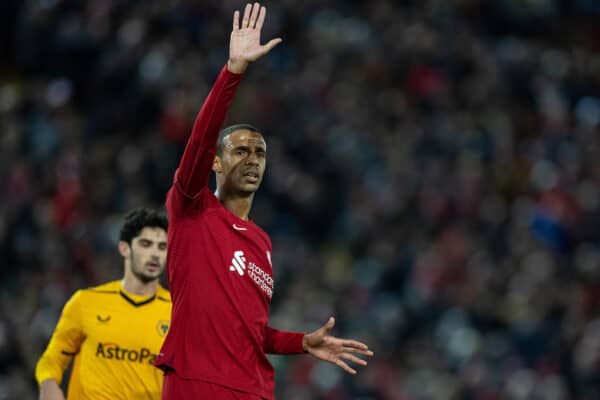 All of the talk about Liverpool's need to rebuild has centred around the prospective arrival of new midfielders, with Jude Bellingham clearly the club's top target.
But as the weeks have gone on, it's become more and more apparent that changes will need to be made in defence, too.
Whether that has always been the club's plan for this summer, we don't know, but surely at least one new addition will need to be made to Liverpool's backline?
Earlier this month, GOAL's Neil Jones claimed there were "growing whispers" that Joel Matip would be leaving the club this summer, and given his recent drop off in form, and the fact he only has 18 months left on his existing deal, many would probably agree that this season should probably be his last at the club.
Starting ahead of Matip has been Joe Gomez, but his performances have also left a lot to be desired. In truth, he has not looked the same player since his injuries.
"Some of the players there…" Carragher began.
"Joe Gomez tonight, we've all had bad nights as players and maybe I shouldn't kick someone when they're down because I'm sure he'll feel terrible.
"But we keep talking about midfield players Liverpool need – and that's right – I think Liverpool need defenders as well.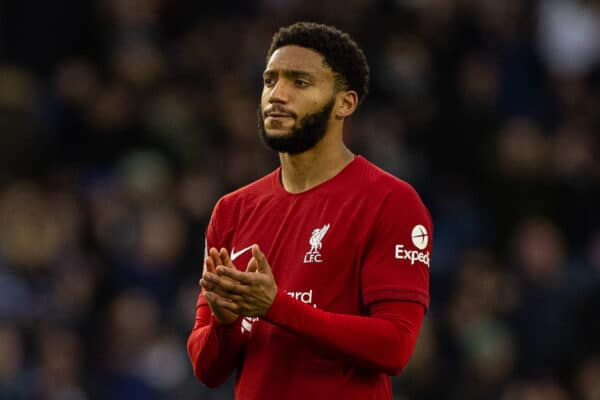 "Because as I said, when they get exposed, they can't defend.
"This Liverpool defence now, who we've been told for years have got some of the best players in the world, can't cope."
Carragher also rightly points out that many of Liverpool's defensive issues stem from the fact they're not getting good enough protection the six players in front of them.
More quality in midfield and a more settled front three will go a long way to resolving that problem.
"For years they've had a front six in front of them who've probably worked harder and smarter than any other team in world football," he added.
"Now that's gone it's completely fallen apart."
Players not good enough, but it's not all their fault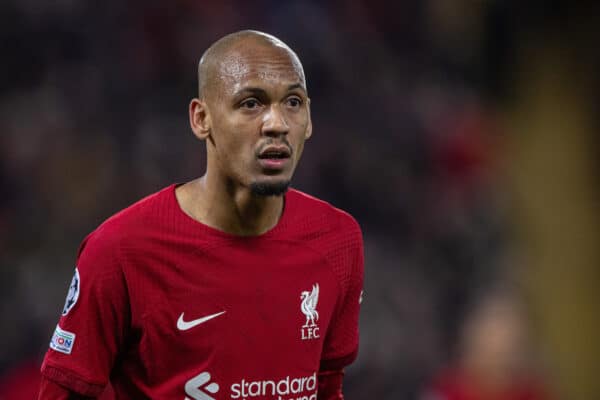 The likes of Jordan Henderson and Fabinho have all received a lot of criticism from supporters this season, but they shouldn't take all the blame.
Yes, they've not been good enough, yes they are capable of doing much better, but they shouldn't be starting each and every week for Liverpool.
One of Liverpool's biggest downfalls has been failing to replace Gini Wijnaldum. Thiago is a sublime footballer, but he should never have been viewed as Wijnaldum's replacement. His skillset is completely different.
Liverpool miss Wijnaldum's physicality and dynamism in midfield, and as Carragher points out, without those qualities in the centre of the park, it's very difficult to deliver the high energy football Klopp wants from his team.
"My point is, they're trying to play Jurgen Klopp football without players who can play Jurgen Klopp football," Carragher said.
"That is maybe some players who've been brought in, but also some players there now who have just reached the end.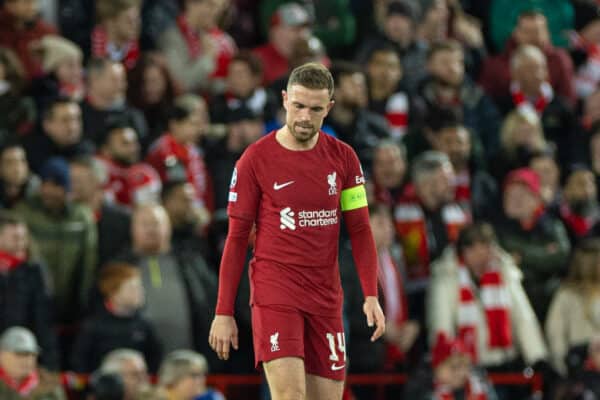 "And I would never criticise those players because they've done their job for Liverpool over the last four or five years.
"The one most people talk about is probably Jordan Henderson. He's the captain.
"We all know reinforcements are needed in midfield, and that lad gets a bit of criticism from Liverpool fans, he shouldn't. He's done his job. He came in at 21, he's now 32, he's won everything, he's lifted every trophy.
"The fact that he's still having to play week in, week out, means there's been mismanagement off the pitch in terms of players being brought in."
"A line in the sand"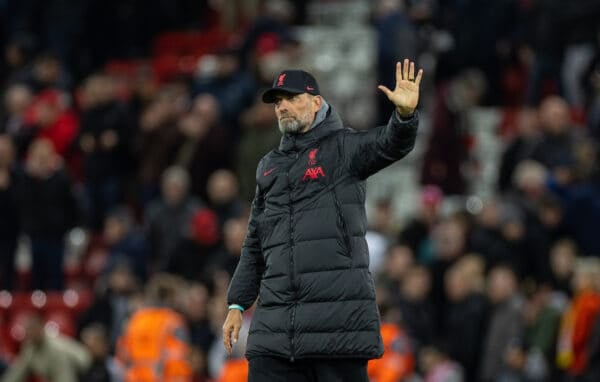 Many probably didn't need further proof that Liverpool were a team in need of a refresh, but on Tuesday night they got it.
With the quality the Reds still possess in their squad, particularly in the final third, they should be creating a lot more chances than they have been in the second half of matches.
But the reality is that Klopp's side offered absolutely nothing in the second half against Real, in the same way they didn't against Brentford, Wolves, Brighton et al.
"This team has come to an end," Carragher said.
"Jurgen Klopp built a team when he first came in, when that team was seventh or eighth in the Premier League, and what we saw over the next four or five years was amazing.
"He needs to be allowed to do that again, because I think that's a line in the sand.
"When you lose 5-2 at home in the Champions League, that is almost that moment where you say 'no, this has to stop, you have to start again'.
"The big worry for me was the second half. You're attacking the Kop on a European night.
"There was nothing, absolutely nothing. No energy, no goalmouth scrambles. There was nothing there, it just looked broken to me."
Not much will change before end of the season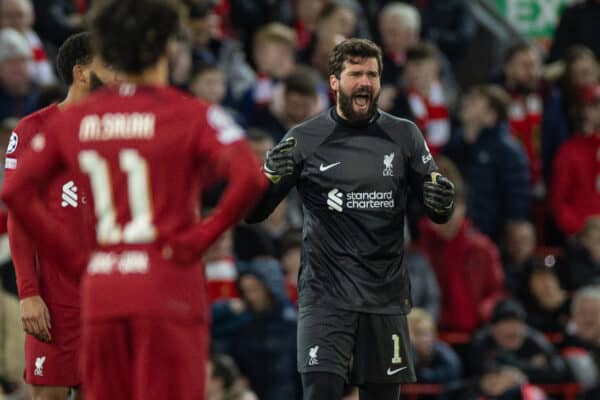 Anyone expecting these issues to miraculously disappear between now and the end of the season will be left disappointed.
Liverpool are a team capable of putting a run together, but if they do so before the end of this season, it will be because their fire power in attack has bailed out their inability to control matches.
In the derby victory earlier this month, Liverpool faced an Everton team who offered absolutely nothing, and despite their man advantage against Newcastle, the same defensive frailties were on show.
"I go back to these two games against Everton and Newcastle that Liverpool won," Carragher continued.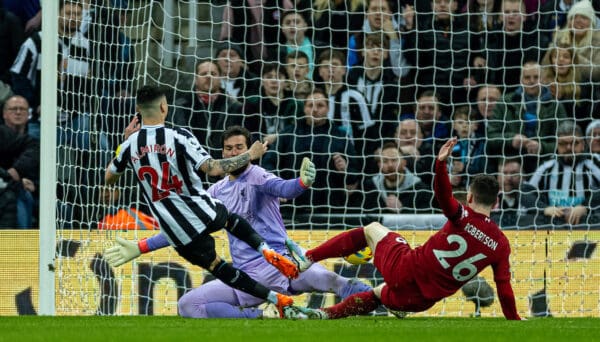 "I didn't see anything different in those two games except that Liverpool's goalscorers scored the chances that they got. They did that again against Real Madrid which put them 2-0 up.
"But this Liverpool team will do what it's done all season, which is win a couple, lose a couple.
"That's what's happened. They've won a couple of games, they've lost to Madrid, they might win the next one, they'll lose, they'll draw. Nothing's going to change with this team.
"It is the end of an era, and Liverpool before the World Cup, [you] felt they needed a midfield player or they needed two midfield players.
"The more you watch this Liverpool team you're thinking 'I think it's more four players to go into the team, not just the squad'."
Top four still possible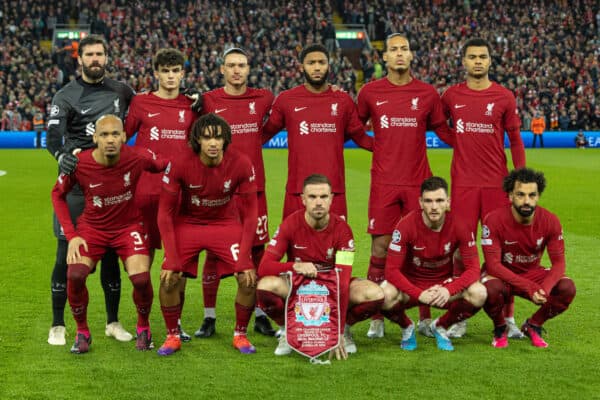 For all that needs to change, Liverpool still have an opportunity to secure a top four finish this season.
It won't be easy, but do they have enough in the tank to finish ahead of Tottenham and Newcastle? It's certainly not impossible.
Two wins against Crystal Palace and Wolves, and Liverpool will be level with fifth placed Newcastle ahead of the Magpies' next league match away at Man City.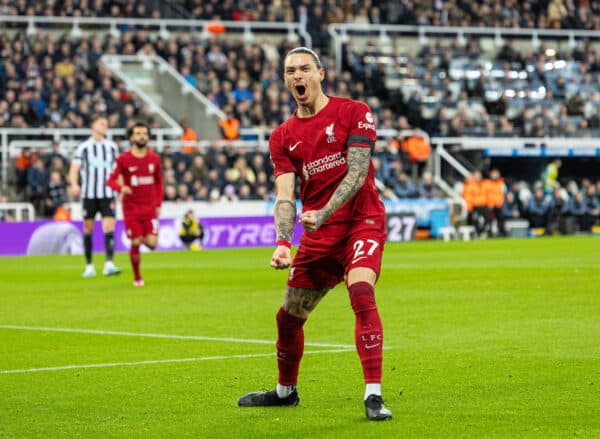 The fear will be that the Reds' defeat to Real Madrid will damage their confidence as they strive to push up the Premier League table.
Klopp has said it himself. He knew this season was going to be tough, but injuries to key players have made it tougher.
Without them, Liverpool would already be in and around fourth spot, but should they manage to keep key players fit between now and the end of the season, they're still in with a chance of Champions League qualification.
"They're not a million miles away from top four and the teams who are in that position," Carragher said when discussing Liverpool's chances of a top four finish.
"It's not like you're coming up against a Man City or an Arsenal to try and get in the top four, you're competing with other teams who drop points.
"Tottenham are in the top four now, they lost 4-1 last week away at Leicester.
"Liverpool will make a fist of that, I don't think they'll get it, but I think they'll make a decent fist of that. There's still a long way to go."