Ten Hag and Klopp call for an end to 'songs of tragedy'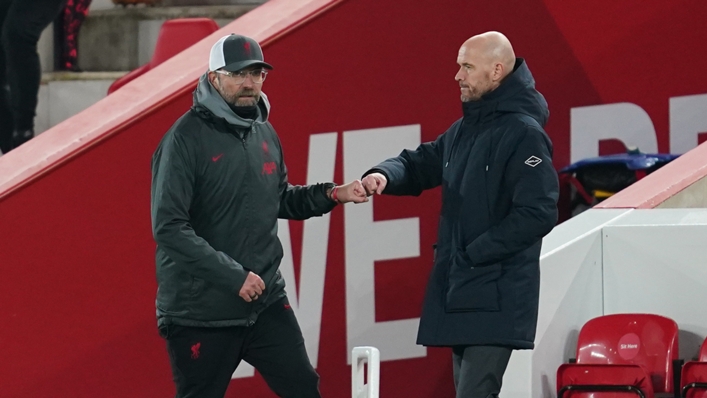 Erik ten Hag and Jurgen Klopp
Erik ten Hag and Jurgen Klopp urged fans to end 'songs of tragedy' ahead of Sunday's Premier League game.
Liverpool host their arch–rivals Manchester United at Anfield, with the hosts looking to boost their top four hopes and United looking to build on last weekend's EFL Cup triumph.
In previous years, matches between the two sides featured chanting and online abuse based on tragic events in the history of the two clubs – Hillsborough, Heysel and Munich.
Seeking to put an end to the incident, both managers have issued a plea to their supporters.
"The rivalry between Manchester United and Liverpool is one of the biggest in world football. We all love the passion of the fans when our teams meet, but there are boundaries that must not be crossed," said Ten Hag.
"It is unacceptable to use the loss of life – in relation to any tragedy – to score points, and it is time to stop. Those responsible have tarnished not only the reputation of our club but also, most importantly, the reputation of themselves, the fans and our major cities.
"On behalf of myself, our players and our staff, we ask our fans to focus on supporting the team on Sunday, and representing our club in the right way."
That message was echoed by Klopp, saying: "One of the main reasons why the rivalry between Liverpool and Manchester United is so special is because it is so intense and nobody wants to change it. But at the same time when the competition gets too tough it can go places- a place that is not good for anyone and we don't need this.
"We want noise, we want events to be partisan and we want the atmosphere to be electric.
"What we don't want is anything beyond this and this applies especially to the type of chanting that has no place in football. If we can maintain the passion and remove the poison it will be much better for everyone."
United enter Sunday's match third in the Premier League table and are 10 points clear of Liverpool.