Liverpool might be the most frustrating team in Europe. An absolute battering of their biggest rivals last time; beaten by the league's worst side this week.
Bournemouth 1-0 Liverpool
Premier League (26), Vitality Stadium
March 11, 2023
Goal: Billing 28′
Boom and bust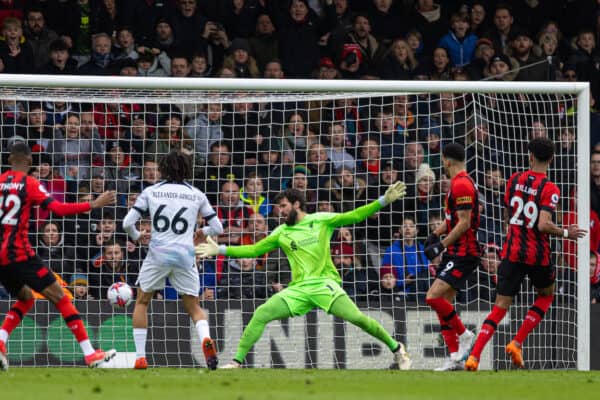 From 7-0 over Man United to struggling against the league's bottom side. How do we do it?
Liverpool's season has rarely been summed up so neatly but these pair of matches say it all: not strong enough mentally or physically, not good enough tactically or technically.
Despite a decent start and almost the exact same line-up, the first half ended up being uninspiring, sluggish, lacking concentration and not full of enough fight.
The second 45 should have been faster, more aggressive, more insistent, more everything. It wasn't. The last 10 or 15 were hardly an onslaught, either.
In a league, and in a team, in which consistency is absolutely everything, this was an appalling performance which largely renders the result – if not the historical context – of last weekend's game completely irrelevant.
Klopp's response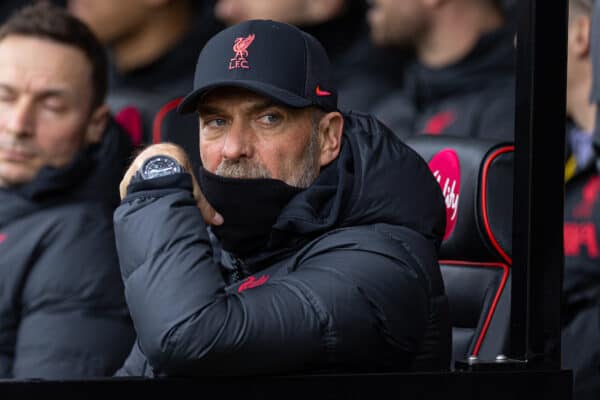 If we assume that the week-long build-up to the game was a normal one, with coaches preparing the players as usual and insisting on good work on the training pitch, it's tough to really see how much blame can be put on the manager for this game specifically.
It cannot have been asked or expected of the players that they did anything other than perform as they did against Man United – and Jurgen Klopp's in-game reactions suggest as much.
First, there was a sub at half-time. The boss was visibly frustrated first half on the touchline and he didn't hang around.
We can probably assume some words were had in raised tones at the break when Diogo Jota came on to help the team shift gear and formation.
When that didn't really pay enough dividends, a triple change followed just past the hour mark as Trent, Nunez and Fabinho were replaced by Milner, Firmino and Henderson in the 65th.
None of it had an impact. The team did not respond. The question then becomes one of whether the boss can make the players do that, or if the players simply refuse to bring the levels required.
Van Dijk's difficult day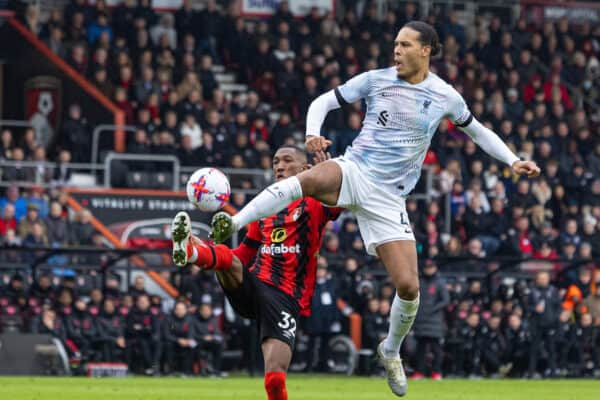 There goes the recent clean sheet record in league play.
Arguably there's a wider discussion to be had on what on earth was going on for the goal as everyone seemed to stop, the runners weren't tracked and Billings had a tap-in – after Ouattara was allowed to run about 40 yards, that is.
But central to both the concession of the match-winner and the overall poor showing was captain on the day Virgil van Dijk.
The big centre-back has previously alluded to underperforming due to overplaying, but he's had a week to prepare for this fixture and had a dreadful first half.
He was beaten in the air, easily run past more than once, missed an absolute sitter at the other end and for the goal, after giving up chasing the winger who beat him, simply stopped: not covering a pass, not directing his teammates, not getting back into a central position.
It was awful in every regard.
We'll have to point out that it wasn't just Van Dijk who was poor today: Trent and Salah are fellow big-name starters who were just as desperate.
The league's worst defence…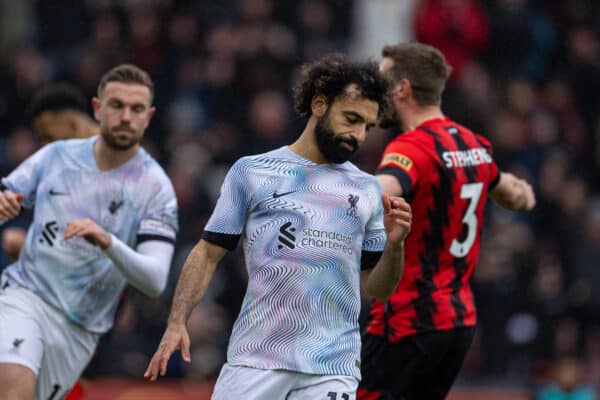 Seven last week, to line up inevitable (and largely pointless) talk of the possibility of netting three at the Bernabeu.
And then the Reds go to Bournemouth, who have conceded more goals than any other team in the Premier League this season, and can't hit a barn door with a banjo.
Neto had one very routine save to make in the second half when Liverpool should have been pushing and pressurising the league's bottom club.
A very quiet Mo Salah missed a penalty by a mile, to make matters worse, while Cody Gakpo had a goal rightly ruled out early on.
We beat Bournemouth by nine earlier in the season; we didn't even have that many shots on target this time.
How the team goes from the fast play, incisive passing and clinical finishing a week ago to the turgid ineptitude of this showing in the final third is a wild mystery.
Midweek matters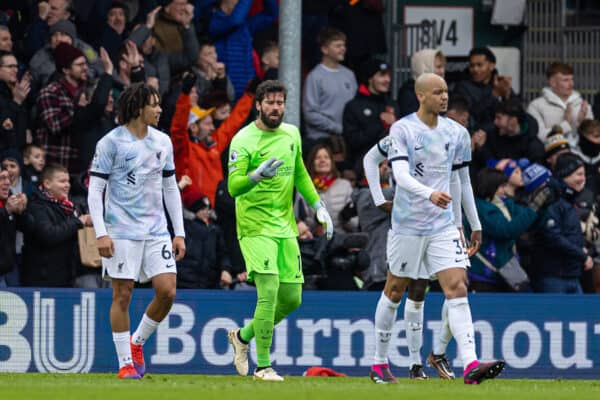 Winning a couple in a row by good scorelines would have really stoked ambitions of pulling off a wild comeback in Madrid, but this result and performance ends any dream of that being remotely probable.
Liverpool could have been out there for about two days and not scored against Bournemouth, so getting at least three in 90 minutes against Real feels somewhat unlikely – they haven't conceded more than once in a game at their own stadium this season, assuming Espanyol don't do so on Saturday afternoon.
As such, there's a balance to be struck between rectifying this performance and the first leg result, but also not wanting to see the aggregate score get any bigger.
After that, there's a break and a chance to reset.
The Fulham game is postponed, the international break is on the horizon. Liverpool cannot afford to come back from that spell without far more intent and ambition in their game, against both big and small sides.
Man City, Chelsea and Arsenal are the first teams back, so we have to be in the mood and far, far better than this absurdity.
Champions League remains the target. This was not the performance of a team which deserves it.