Mourinho threatens to take legal action against the fourth official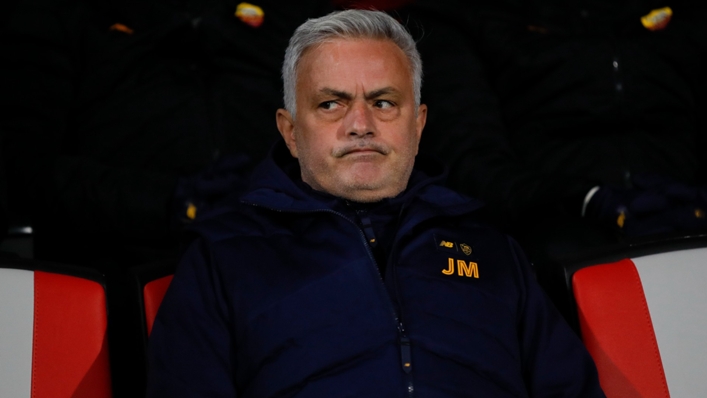 The coach of Roma, José Mourinho, during the match against Cremonese
Jose Mourinho has threatened legal action against fourth official Marco Serra after the Portuguese was sent off in Roma's 2-1 Serie A loss to Cremonese on Tuesday.
Mourinho's side squandered a chance to move up to second in the league and went home with no points after Daniel Ciofani's 83rd-minute goal from the penalty spot.
It is not the first time this season that the Roma coach has received his marching orders from referee Marco Piccinini shortly after halftime with his team trailing 1-0 after a sideline fight with Serra.
"I'm excited, but not crazy," Mourinho told DAZN. "In order to react like I did, something had to happen first. I need to understand if I can take any legal action."
"Piccinini gave me a red card, because unfortunately the fourth official does not have the capacity to understand what he told me.
"I want to know if there is an audio recording. I don't want to get into the fact that Serra is from Turin and on Sunday we play against Juventus.
"For the first time in my career, a fourth official spoke to me in the most incredible way. It was unjustifiable.
"At the end of the game I went to talk to them. Piccinini, who was the fourth official in the last game when I was sent off, told me to apologize to Serra.
"I told Serra that he should have the courage to explain what happened, but he had memory problems."
Mourinho lamented his team's performance with the race for the top four wide open ahead of the Giallorossi's clash with Juventus on Sunday.
"We were a bit unlucky, conceding two goals in his chance and a half," he said. "The responsibility is ours. We lacked intensity, we should have killed the game immediately.
"I am taking it game by game. I can't put this game down now, I can't even think about Sunday. There is a frustration, which forces me to analyze. It's a shame that this happened with Serra: I respect someone as much as they respect me."