Mbappe wants Champions League glory but remains content at PSG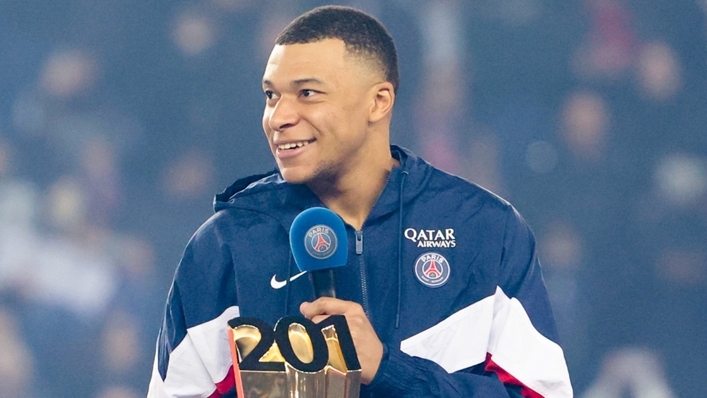 Kylian Mbappe is PSG's top scorer
Kylian Mbappe has reiterated his commitment to Paris Saint-Germain, even though he is determined to win the Champions League.
Mbappe was PSG's top scorer in Saturday's 4-2 win over Nantes.
The 24-year-old surpassed Edinson Cavani's record 200 goals for the club when he scored in stoppage time. Mbappe only needed 247 games to reach 201 goals – Cavani's 200 goals came from 301 appearances.
After winning the 2018 World Cup with France and five Ligue 1 titles, the Champions League passed Mbappe, who has a runners-up medal from the 2020 final when PSG lost to Bayern Munich.
Bayern have hampered PSG's progress this season, with the Bundesliga giants holding a 1-0 advantage going into their last-16 second leg on Wednesday.
While Mbappe sees himself as a Champions League winner, he has dismissed suggestions that Wednesday's result will have a direct impact on his future at PSG.
"I don't think so," he told a news conference.
"I think if I read my future, it will be [winning] the Champions League, and I'm not disrespecting the club. I went very far.
"I'm here, I'm very happy. I'm very happy here, and for now I'm not thinking about anything other than making Paris Saint-Germain happy."
Mbappe's sole focus now is to push PSG to results in Munich. He returned from injury in the first leg and saw the equalizer ruled out for offside.
"It's a good moment for me [becoming PSG's all-time leading scorer], but for the team, the good moment is three wins in a row after losing to Bayern and that's the most important thing," he added.
"Of course, I'm happy, it's important for the team. But the most important thing is that the team is united and ready to face the challenge in Munich on Wednesday.
"[Could I score] my 204, 205? We don't know. Yes, as I said, the goal is clear, we want to go there to qualify. We have a lot of confidence, and also humility because we play a great team.
"But we are Paris Saint-Germain, and we always go to win games and we will go to Munich to win, qualify and come back happy."
PSG coach Christophe Galtier, meanwhile, was honored to coach Mbappe.
"It's a privilege to experience this, live, in real time. It's a privilege for a coach to have a player like Kylian, who in my eyes is the best striker in the world," Galtier told reporters.
"Our fans, but also people who love French football, must appreciate the value of having a player like that in our league.
"He is determined to break records, to make sure the team wins and the team goes as far as possible.
"It's a privilege for me to witness this. It's a privilege for Paris Saint-Germain to have a striker like Kylian. You have to appreciate him for who he is."