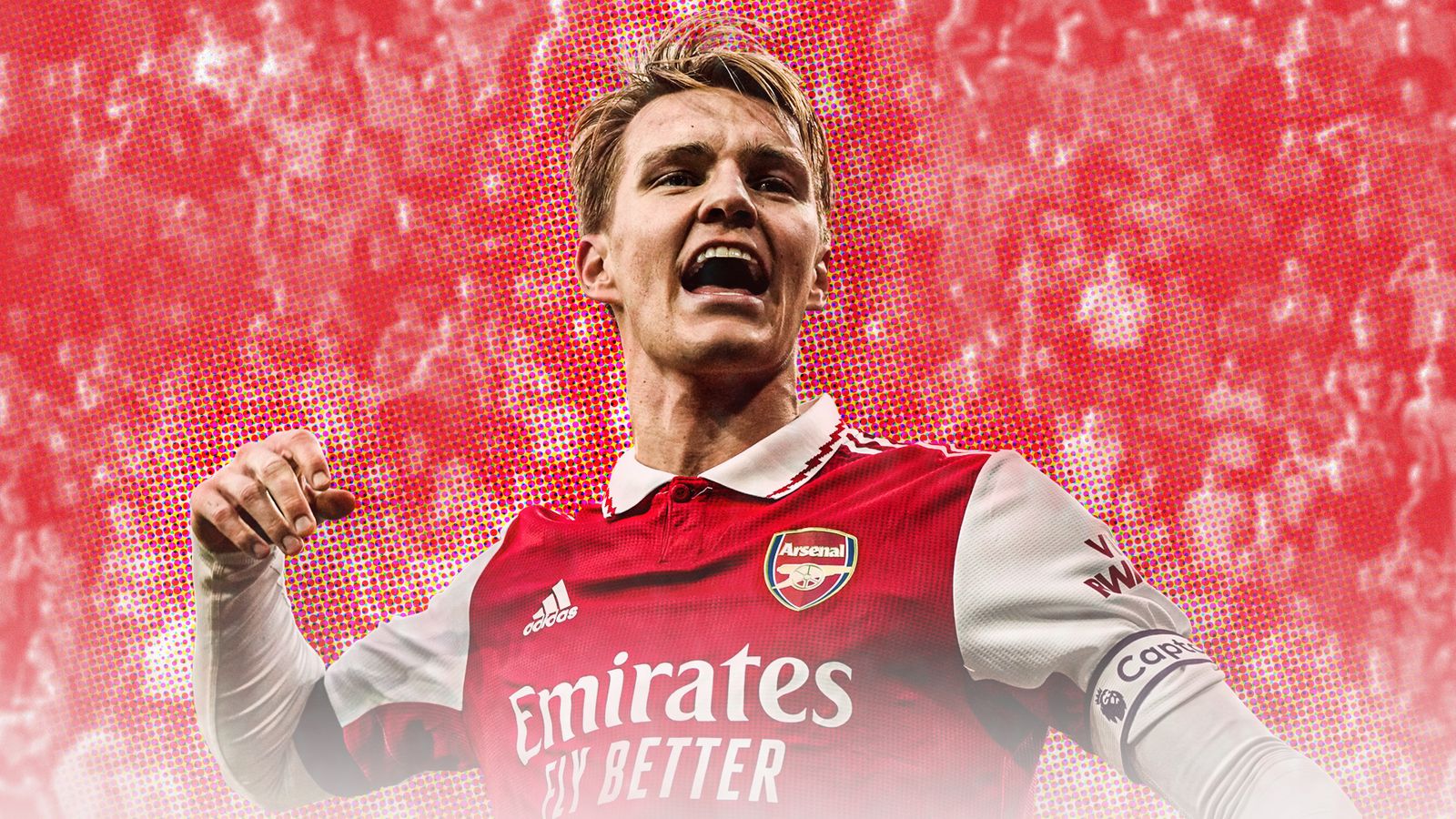 Martin Odegaard's sensational form for Arsenal could carry them to the Premier League title but what is the story behind his extraordinary vision? An anecdote from his past sheds more light on the Norwegian's ability to see things that others cannot…
Why do some players seem to have more time than others? The answer to that lies beyond the technique of the individual, it is something more. It is the ability of a player to scan that has been identified as a differential between the good and the great.
In 2013, a study of 55 midfielders revealed that those with a higher scan rate also had a higher forward pass completion rate. There was a direct correlation between pass success and having a better overview of your surroundings before receiving the ball.
Geir Jordet was part of that study, a sports psychologist tracking the art of scanning since the 1990s. He co-founded the Be Your Best virtual reality software as a means of training this ability to scan. But he needed help from a precocious youngster to improve it.
Martin Odegaard donned a headset and began using the software, an immersive experience that simulates game situations. It logs the number of times that a player checks their surroundings, when they check their surroundings, and the decisions made as a result.
As Be Your Best chief executive Andreas Olsen explains, Odegaard soon identified a problem. "When he used it, one of the product development features added as a result was because he mentioned that he wanted to have a higher difficulty," Olsen tells Sky Sports.
"He was very humble and respectful when doing the scenarios but instead of wanting it set at 100 per cent speed, he asked if he could do it at 120 per cent. Now we have a slider where you take the speed up or down based on the actual speed of the scenario."
It is a short anecdote that helps to elucidate what has become obvious to any Premier League viewer this season – Odegaard sees things quicker than others. His vision, his mastery of the game, has been one of the key factors in Arsenal's ongoing success.
Let us begin with the numbers that mark him out as decisive. Odegaard ranks among the top 10 players in the Premier League this season for both goals scored and assists provided. It is an indication that he is at the heart of everything his team does.
The Arsenal captain has formed partnerships all over the pitch, connecting those around him, making sure that it all flows. There is the clever interplay with Bukayo Saka on the right but there is also that switch to Gabriel Martinelli or Granit Xhaka on the left.
Odegaard operates in that same half-space as Kevin De Bruyne on the right of centre but he is, as Mikel Arteta puts it, a very different player. He is cuter in those tight spaces, a five-a-side nightmare. Think of the drag and scoop that did for Lewis Dunk at Brighton.
In the 4-0 win over Everton, there were more of these moments to illuminate. He scored, of course, but those leaving the stadium might also recall the passage of play late in the game where he slid with his left foot, rising again in one motion to stop the ball with his right.
Trivial, perhaps, but memorable, a player in complete command. Odegaard has the skill-set of the showboater but there always seems to be a practical purpose to it. The aforementioned slide was actually the most effective way of retaining possession.
So too was his quick shift of the ball from left to right set up Saka's goal at Manchester United. Technically, there are few better at engineering room where there is none. When given space, he can just smash it into the bottom corner as he did against Tottenham.
He has emerged as a leader too. Arteta calls him a "humble, hungry player with incredible quality who puts that quality to the service of the team. He is always willing to do things for others and is a great role model for the rest of the players and the staff."
There was an example of that at Aston Villa recently. His miss late in that game, with the scores level, could have proven costly. Odegaard dragged his shot wide of the post with the goal gaping. He sank to his knees. Then proceeded to drive Arsenal on for the winner.
It felt like a significant moment in the season and though Odegaard was not involved directly in the third goal, his calming influence, at just 24, is crucial. "Just the feeling, the way he moves," says Arteta. "What he transmits on the pitch is different."
So serene can he appear that his work rate might surprise. Odegaard covers more ground than any other Arsenal player. He has won possession back for his team in the attacking third of the pitch more times than any other player in the Premier League this season.
"He is defining games, having a different presence on that pitch," says Arteta of his inspirational skipper. "His attitude, his willingness to learn and his application is always incredible. When you have those ingredients, normally good things happen."
It is a formidable combination, the technical and the tactical, the physical and the mental. But perhaps it is that willingness to learn, that appetite to improve, even using virtual reality technology in an attempt to gain an edge when not on the pitch, that is instructive.
Against Brighton on New Year's Eve, an entertaining game was still in the balance when Odegaard provided one of the assists of the season. His whipped pass in behind had just the right spin on it to evade the defender and reach Martinelli racing through on goal.
"When you talk about people seeing pictures, Martin Odegaard knows what he is doing before this ball comes," former Arsenal creator Paul Merson told Sky Sports. "He knows what he is going to do. He is probably the only player on the pitch who sees that."
It was a pass that was hard to spot from the stands let alone pitch level, one that required helicopter vision. But of course Martin Odegaard saw it. For the playmaker supreme, who practises at 120 per cent speed, this game can seem like it is in slow motion.