A goalless draw at Selhurst Park was – in a way – reflective of a disjointed, predictable campaign, one that now necessitates a stubborn streak.
For Jurgen Klopp and his players, the stalemate against Crystal Palace represented the classic one step to the side, after victories over Everton and Newcastle had provided two recent steps forward.
The trick on Saturday evening for Liverpool was to push their midweek Champions League torment to the back of the mind and to get back to the job of improving their domestic league fortunes. Easier said than done though.
Opportunities to score, none better than Mohamed Salah rattling the Palace crossbar and maybe Diogo Jota heading against the post from an acute angle were offset by the potential to concede.
This was a game that could have gone either way without ever breaking into anything that will mean it lasts long in the memory, during a season that stubbornly refuses to break into anything that will live long in the consciousness.
No Wilfried Zaha to bother us with his pace, power, and direct nature in a stadium in which Klopp had enjoyed seven successive wins, against a team that hasn't picked up a victory of their own since New Year's Eve, and not one on home soil since October.
While all the pre-match signposts pointed toward a formulaic three points for the visitors – at least they would have done to a confident Liverpool vintage – the outcome was still one of the most predictable of the season.
A base to build from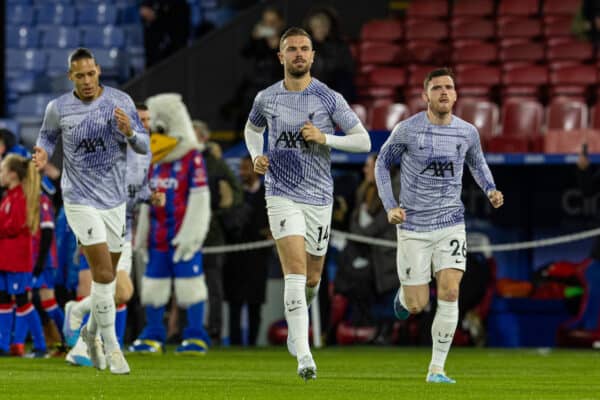 Eight league games without a win for Palace now, yet five of those have ended in draws, a team that harbours a goal difference that is bettered by only two of the eight sides that sit below them in 12th.
While Patrick Viera and his players should rightly keep a concerned eye on the developing relegation battle that is bubbling away over their shoulder, if they keep their heads they should be able to prove they have enough about them to stay out of the churn. It's not always easy to turn the theory of a formulaic three points into a win against such opposition.
Two points dropped or one point gained, this one is easy to class as the former rather than the latter, something that Klopp mused on in his post-match interviews when reading the eyes of his interrogators and his players, that this draw felt like a defeat to them.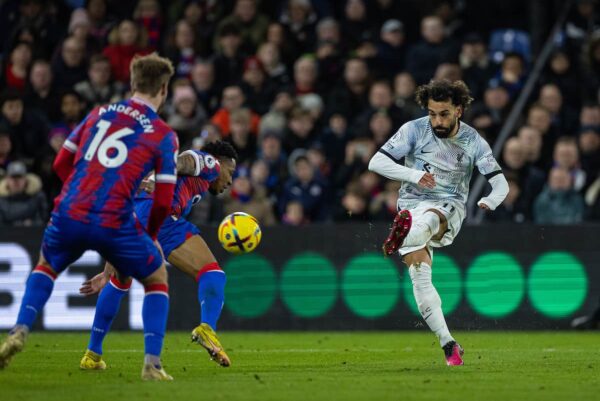 To be fair, it is a totally understandable sentiment on a day when Jordan Henderson managed to block that seemingly goal-bound Trent Alexander-Arnold free kick and we were also denied by the frame of the goal.
We were a victim of Palaces' stubbornness on an evening when our hosts got bolder as the game wore on, but we can learn a lesson from it. Take a bad night in the Champions League out of the equation, and Liverpool have shown fleeting glimpses of a stubborn streak of their own.
On Match of the Day, Danny Murphy contended that despite us keeping one at Selhurst Park, he couldn't see how Liverpool could expect to attain clean sheets, even though if he had looked it up before the BBC's cameras kicked in, he'd have found that this one was our third in succession in the Premier League, our fourth in the last five league games.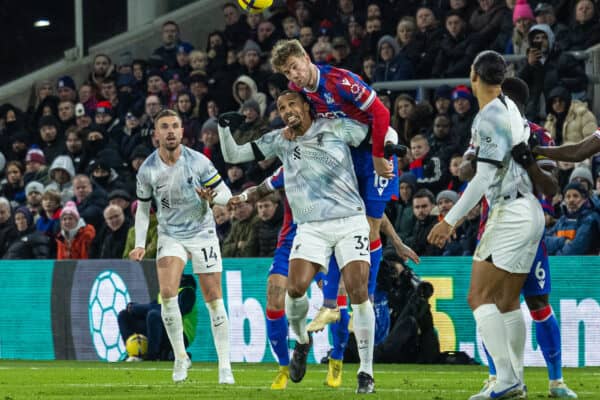 Despite his clumsiness, I do get where Murphy was coming from. We look vulnerable to an ariel ball at times, we don't close quickly enough on the flanks – a side-effect of your full-backs being overtly attacking ones.
We are also still prone to making careless individual errors, this time Alexander-Arnold laying in Mateta, who thankfully couldn't take advantage. We do have a base to work from, however. Cutting out the unforced errors needs to be our next task.
Which way to aim?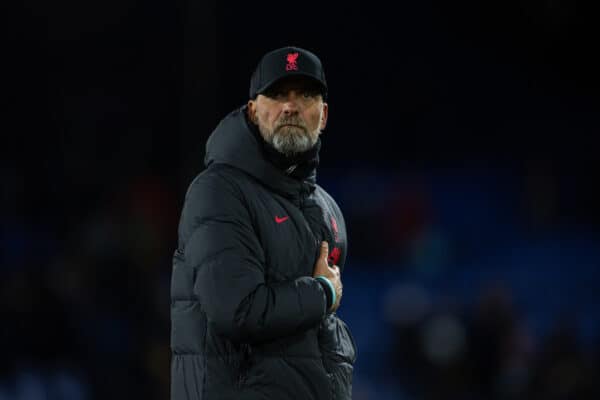 In terms of putting the ball in Palace's net, despite the talent we still had at our disposal, the cards we were dealt in terms of line-up selection bound our hands to a degree.
A midfield with both Henderson and James Milner was always going to reduce the creativity in central areas, while the loss of Darwin Nunez made us less of a force of nature in the final third, with Jota realistically half a dozen games away from finding his full stride.
Into March we now move, which will hand us a Madrid mission to prove a Champions League point to ourselves, but more importantly four league games that will kill or cure our hopes of a top-four finish and a return to the Champions League for 2023/24.
Wolves will drift into Anfield on Wednesday night, again, with further visits of Man United and Fulham on the agenda, plus an added trip to the south coast to take on a Bournemouth side that we put nine goals past earlier in the season and who will want to redress some balance.
Stubbornness will be key, as these four opponents are split into two defined demographics, with Wolves and Bournemouth amid the relegation bun fight, while Man United and Fulham – both of whom sit above us – have loftier ambitions.
What they do all have in common, however, is that they each have something focused to fight for, whereas we still need to give ourselves something genuinely tangible to aim for.
A crucial month lies in wait.