We should have seen it coming. After humiliating Man United at Anfield, this consistently inconsistent Liverpool side wasted a get-out-of-jail-free card.
Fresh off the back of putting seven past Man United and handed an away day against opposition we put nine goals past in August – a team that is looking set for an immediate return to the Championship – all the signposts suggested a formulaic three points for Liverpool.
But just as a week ago, maybe we should have seen this one coming too.
Deep breath taken and a measured count of 10 done through gritted teeth, despite being mugged off by them in the cursed early timeslot on Saturday, Bournemouth will be a sad loss to the Premier League if they succumb to relegation at the end of May.
Our clashes against them rarely fail to deliver something that lasts long in the memory, whether good or bad.
A small atmospheric stadium that is the perfect antidote to the Meccano structures that Southampton, West Ham and Leicester reside in, throw in the core toxicity of our cousins from across Stanley Park and if I could handpick the three teams to go down then Bournemouth would instead be heading to mid-table respectability.
Football doesn't work to order, though, be that in terms of blowing a projected easy three points or the preferred survival of inoffensive Premier League clubs ahead of collectives of habitual cranks who should have taken their exit long ago.
Sliding doors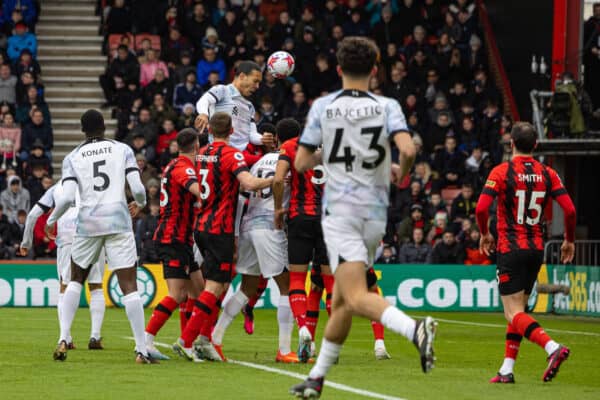 Bournemouth will head to Goodison Park on the final day, and it would come as no surprise to see Sean Dyche set-piece Everton a path to safety at the Cherries' expense.
On the same day, we head back to the south coast to take on a Southampton side that might still have it all to play for too, with big question marks now resting over whether we still have something valuable to reach out for.
Virgil van Dijk was at the centre of most of the pivotal moments on Saturday; arguably two headers that should have found the net and a goal conceded during which he just seemed to give up the chase.
Throw Mo Salah's penalty miss into the mix and here was a game that was ours to reach out for, against the team with the worst defence in the division.
We should have won this one, but it was a day when we seemed to expect it to come to us, rather than going out there and grasping the victory.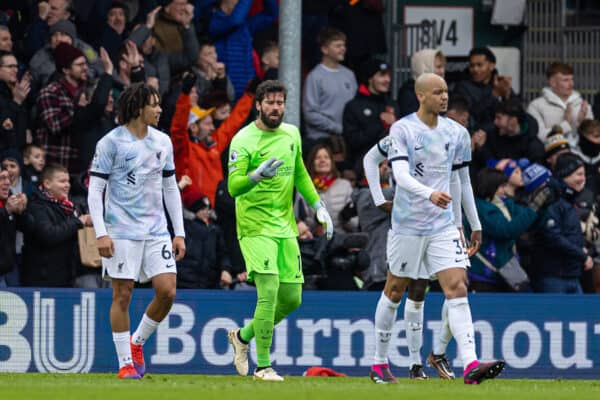 Having made up crucial ground recently and form fluctuating for both Tottenham and Newcastle, Jurgen Klopp's team had suddenly looked set to time their run to the top four to perfection.
But this is a loss that makes obtaining Champions League qualification for next season more difficult than it needed to be, and we now face a three-week hiatus from Premier League football, due to a combination of Fulham's continued involvement in the FA Cup next weekend and the looming international break.
Klopp conceded after the game that he will have to assess the scars this defeat will have left behind, a heavy nod to a mental fragility that was still in the healing process as they headed to Bournemouth.
Woeful on the road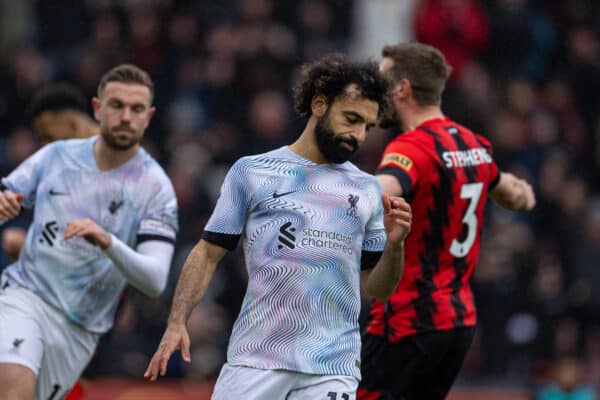 In one part this was the type of bad day at the office that all teams suffer occasionally, yet for the 2022/23 Liverpool, it is one that sits upon a landscape in which they've picked up just three league wins on their travels all season.
Strip it all down. We haven't been in the top four all season and have collected just 12 of a possible 39 points away from Anfield so far.
There are nine teams involved in a wide-open relegation battle, and in the 13 games we've gone into against this cluster of nine we have dropped a staggering 18 points.
Take even half of those 18 points and we would be behind only Arsenal and Man City at this decisive stage.
What is concerning is that, despite the get-out-of-jail-free cards we have been handed this season, we haven't made the most of them, and we are basically where we deserve to be.
To clinch that top-four place we are going to be as much reliant on the frailties of rivals as we are on our abilities to win our own fixtures.
The month of all months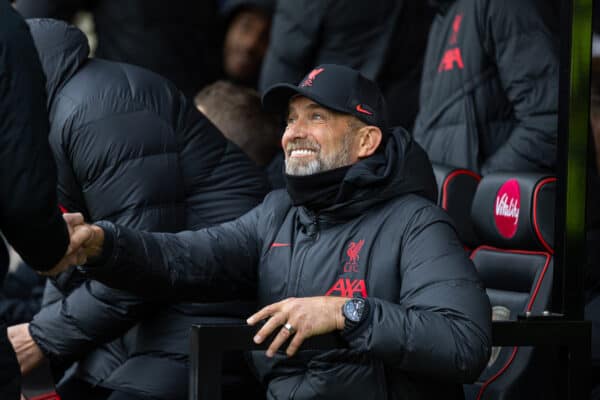 We will resume our disjointed mission against Man City at the Etihad, an unenviable fixture which will be swiftly followed by a trip to Chelsea and the visit of Arsenal.
It is an arduous kick-starter to a month littered with games against teams that are either chasing the league title, a place in the top four or Premier League survival.
In a campaign in which it seems everyone still has something to aim for we will trip across very few games where our opponents are, stereotypically, already 'on the beach'.
Before all of that, we face our Champions League mission impossible at the Santiago Bernabeu.
A bridge too far to hope we can pull off the biggest miracle since Istanbul, but an evening where we should be looking to redeem ourselves with a win on the night.
Go out there and break the hold Real Madrid maintain over us, maybe even enjoy the occasion too, as there is no saying just how long we might have to wait for our next Champions League assignment beyond it.