It's not every day you beat Man United 7-0, so forgive us for taking an extra bit of joy from our rivals' misery this time around.
The Reds' biggest-ever win over the Red Devils was bound to hurt and there were plenty of visiting supporters leaving Anfield early on Sunday.
One man who had to stay put was Gary Neville, as he was covering the game for Sky Sports.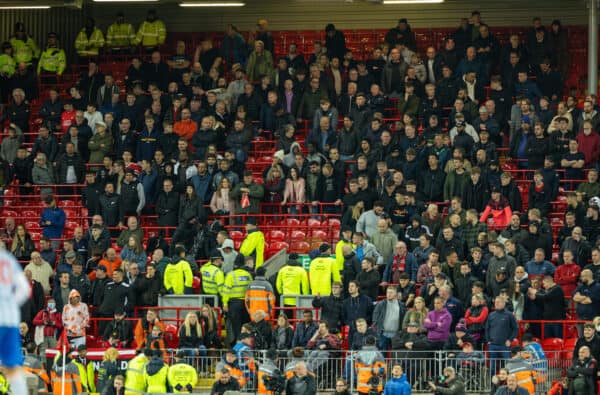 After the match – while sitting in the TV studio with Graeme Souness, Jamie Carragher and Roy Keane – Neville seemed in denial of the defeat.
He insisted the result was a freak occurrence that happened due to Erik ten Hag's team performing badly rather than Liverpool's excellence.
On the Reds' performance, Neville said: "They played alright in the second half, no problem. They won the game…
"When you get beat 7-0 and you're a team like that [in-form Man United], it becomes about how bad the other team are."
It's getting HEATED between Gary Neville & Graeme Souness ??

?? "That is NONSENSE!" pic.twitter.com/z0IPrUeTpr

— Sky Sports Premier League (@SkySportsPL) March 5, 2023
Nevile added: "You got your three points, your 7-0, and that's fine, but I still think Liverpool in that first half were really vulnerable."
The aggregate score from the last five matches between Liverpool and Man United is 21-3, therefore Carragher and Souness were more sceptical of the visitors' display, suggesting a pattern was emerging.
On Man United, Souness said: "It happens once a year to top teams…
"They've been embarrassed again today and it's a recurring situation with this group of players…
"They got beat six by City, they conceded four against Brentford and they've conceded seven today. It must just be that teams are lucky!"
Presenter Kelly Cates also had a cheeky line for Neville as the show closed:
That final line from Kelly Cates ??

Perfectly delivered after the studio discussion ? pic.twitter.com/wetrS0WQUb

— Sky Sports Premier League (@SkySportsPL) March 5, 2023
Liverpool fans – and Carragher – were all too happy to point out Neville's over-confidence and opinions as well, taking joy in his breakdown…
Neville was a joke yesterday. 'United were the best team first half' ?. They had 2 breakaway chances that they fluffed. That aside Liverpool blitzed them.

Liverpool have woken up and he doesn't like it.

— JC (@JohnCraig_81) March 6, 2023
I think Neville's a great pundit until emotion and bias get in the way.

When that happens, he becomes an embarrassment – nothing more than a blinkered United fan who thinks they're 10 times better than they are.

Happens time and time again, and he shouldn't do their games.

— Henry Jackson (@HenryJackson87) March 6, 2023
— Jamie Carragher (@Carra23) March 5, 2023
Can someone check that @KellyCates is ok please because that's one of the biggest bites I've every seen from @GNev2 ? Kelly might be missing an arm ?

— Aaron Mclean (@A9Mac) March 6, 2023
It was death by 1,000 cuts for Gary hearing Kelly read all that out before completely finishing him with that final line, that he said himself. ??
Brilliant! ?? #LIVMUN

— Stephen Hovenden Keane (@SHovendenKeane) March 6, 2023
The rattled 'you're watching Liverpool Tv' is better

— James | Please Be Sensible, Covid Isnt 'Gone' (@Autisticosaurus) March 5, 2023
Gary Neville has cried off from MNF ???

What analysis do you want most ?

— Jamie Carragher (@Carra23) March 6, 2023
And now he won't even give us the satisfaction of reliving it all on Monday night football…