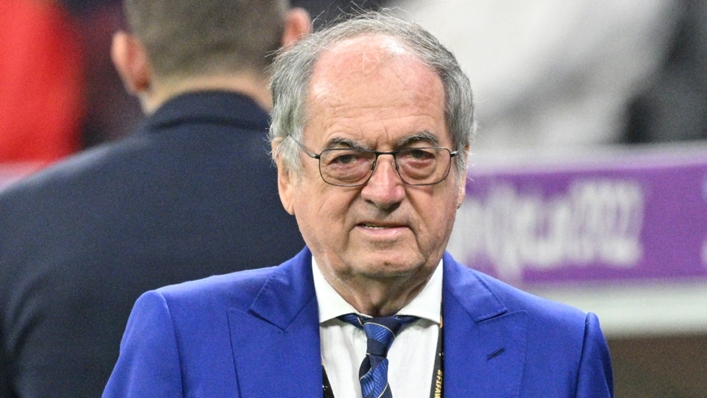 Noel Le Graet during the World Cup
Noel Le Graet has stepped down from his role as president of the French Football Federation (FFF) amid a government investigation into the organisation.
Le Graet has been in office since 2011 but is under increasing pressure to quit.
French sports minister Amelie Oudea-Castera called for changes at the top of the FFF, while top agent Sonia Souid accused Le Graet of inappropriate behavior.
In the RMC interview, Souid outlined how it was his belief that in their relationship from 2013 to 2017, Le Graet saw him as the object of his sexual desires. Le Graet and the FFF did not immediately respond to Souid's allegations.
The 81-year-old man was also accused of inappropriate behavior in relation to female employees. The FFF filed a defamation suit against So Foot magazine, the publication where the allegations were made.
The French government opened an investigation into the matter in September, but Le Graet caused a further week of controversy with his bizarre comments about Zinedine Zidane after confirming Didier Deschamps' new contract as France coach.
Kylian Mbappe was among those to criticize Le Graet, who said he would not "gave up" if Zidane mentioned a possible takeover of Les Bleus.
Le Graet has since apologized but on Wednesday reports surfaced that he had been suspended as president.
The FFF later confirmed Le Graet had "chosen to step down from his duties as president" until the government's investigation was completed.
Florence Hardouin, general manager of the FFF, also resigned in a statement billed as a "precaution".
Philippe Diallo, who serves as vice vice president, will fill both roles on an interim basis.