The fallout of Liverpool's worst-ever European defeat at Anfield could be pivotal. Here, Harry McMullen takes a look at how it all went wrong.
Remember when Liverpool were 2-0 up?
It feels so long ago now, with the 5-2 defeat to Real Madrid confirmed and Jurgen Klopp admitting "the tie is over."
All hopes for the season now rest on another miraculous top-four recovery in the Premier League.
Yet when asked how this defeat would affect confidence in the top-four push, Klopp replied: "That's not allowed…a defeat is a defeat if you don't learn from it."
So what can Liverpool learn from this defeat?
Starting quickly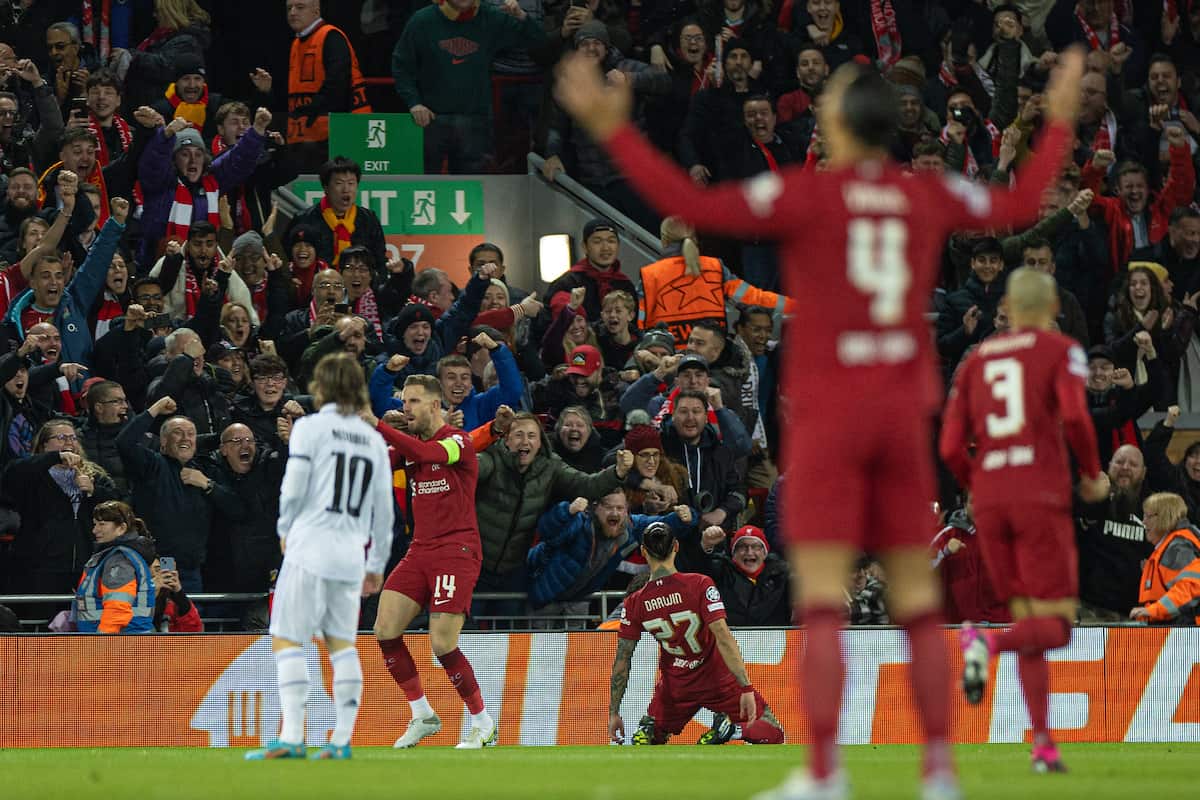 Darwin Nunez scored Liverpool's fastest-ever Champions League goal at Anfield, and it was a beauty.
One of the hallmarks of Liverpool's improved form has been the return of "flexible triangles."
The idea is that, as long as there is someone on the wing, someone in the half-space and someone in a deeper position, players are free to rotate.
Here, Salah receives the ball in the half-space and faces up to David Alaba. Henderson's overlapping run forces Alaba to drop off, creating the space for Salah to thread a pass forwards for Nunez, who finishes brilliantly.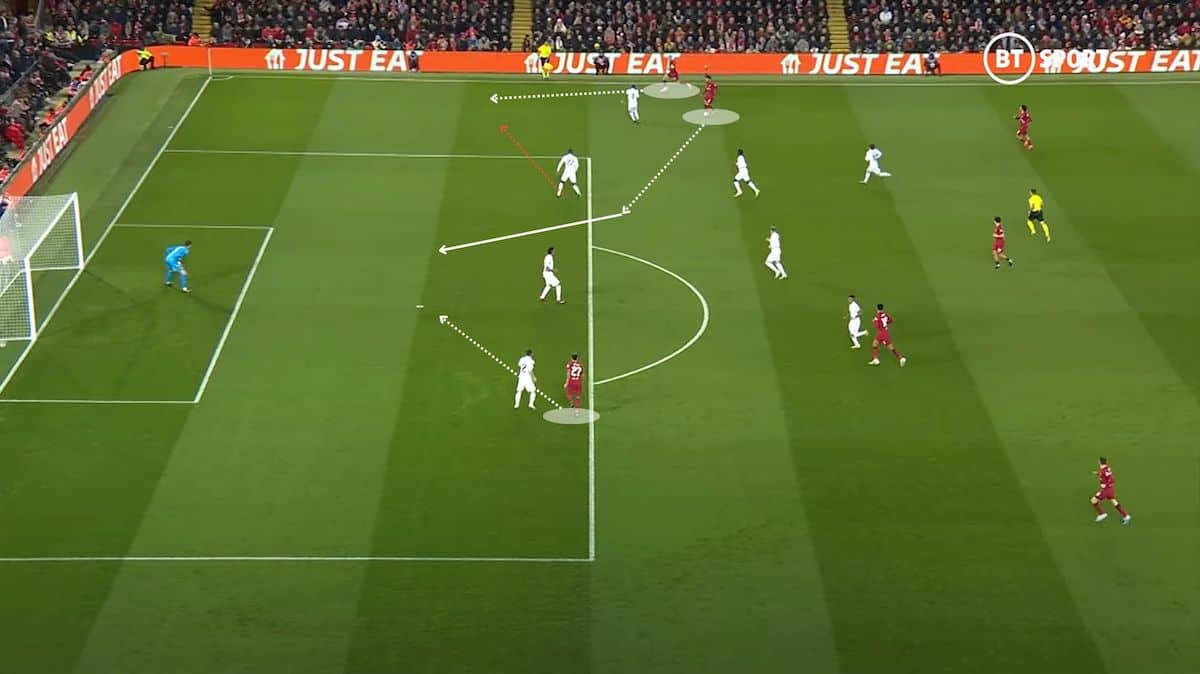 Having spent so much time chasing equalisers this season, Liverpool definitely benefited from going in front early, and it gave them the confidence to play Liverpool football.
This included the intense pressure that created the conditions for Thibaut Courtois' mistake – and Liverpool's second goal.
A fast start isn't automatically rewarded with an early goal. But if Liverpool want to find some useful lessons from this game, the beginning is a good place to start.
Doubters to believers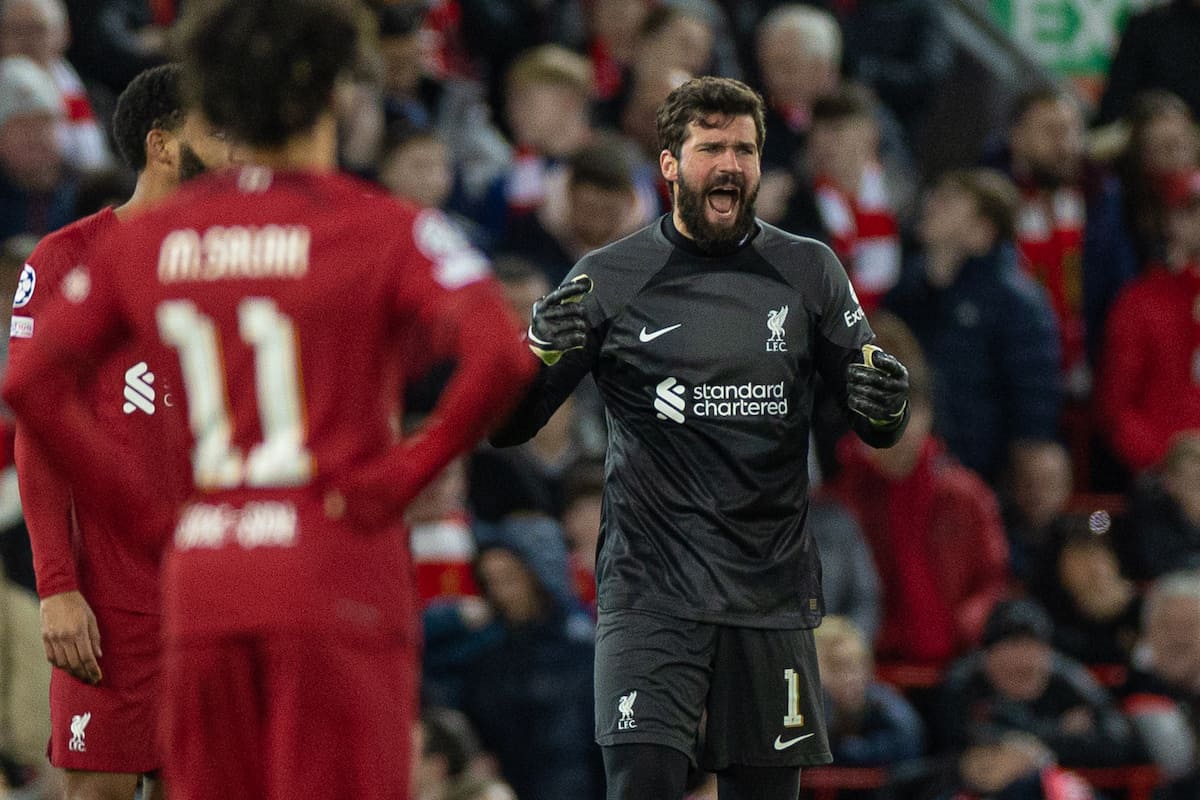 Upon his arrival in 2015, Klopp famously urged the supporters to go from "doubter to believer."
But the players themselves must also have 100 percent belief in the approach: play the first pass forward believing it will arrive, press the ball believing you will steal it, step out believing your team-mate will have your back.
Madrid's first chance of the game, Joe Gomez experiences one percent of doubt about stepping into the challenge.
This gives Vinicius Jr. a tiny pocket of space, and he whips in the first goal.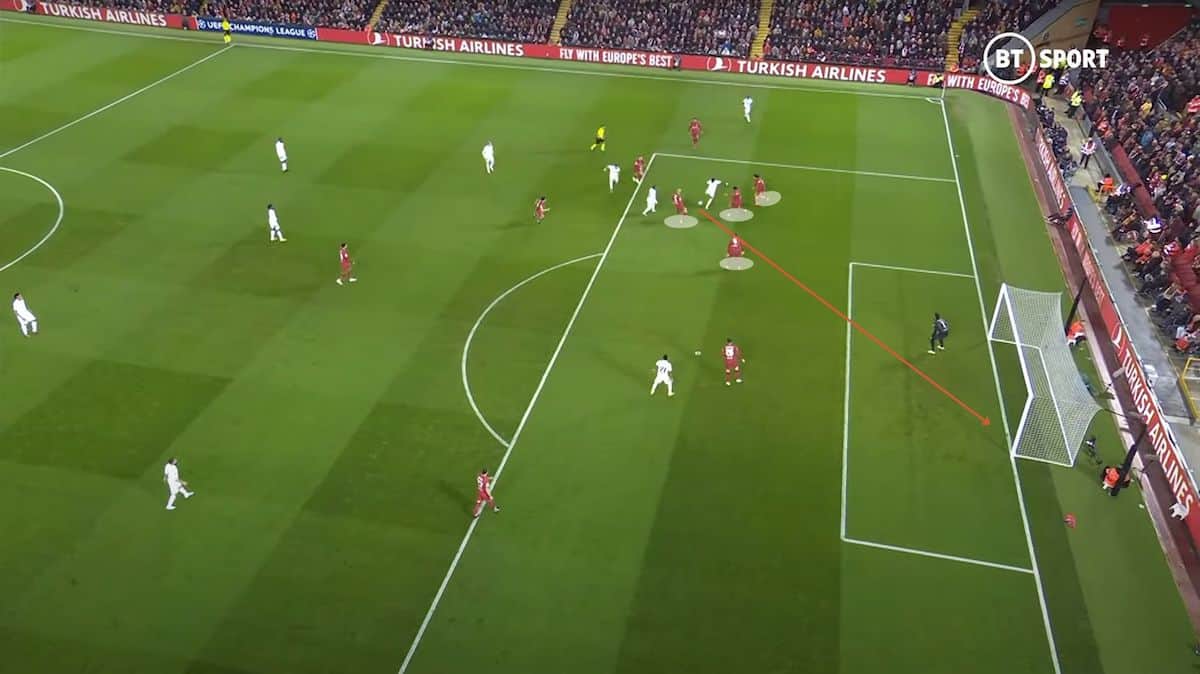 That one percent found its way into Alisson's head next.
Liverpool are able to use him as a third man in the buildup because of how assured he is on the ball, but at 2-1 and under half-hearted pressure, he became unsure of where to pass.
Virgil van Dijk instructs him to play perhaps the more difficult pass, and Alisson gratefully complies – passing straight to Vinicius for the equaliser.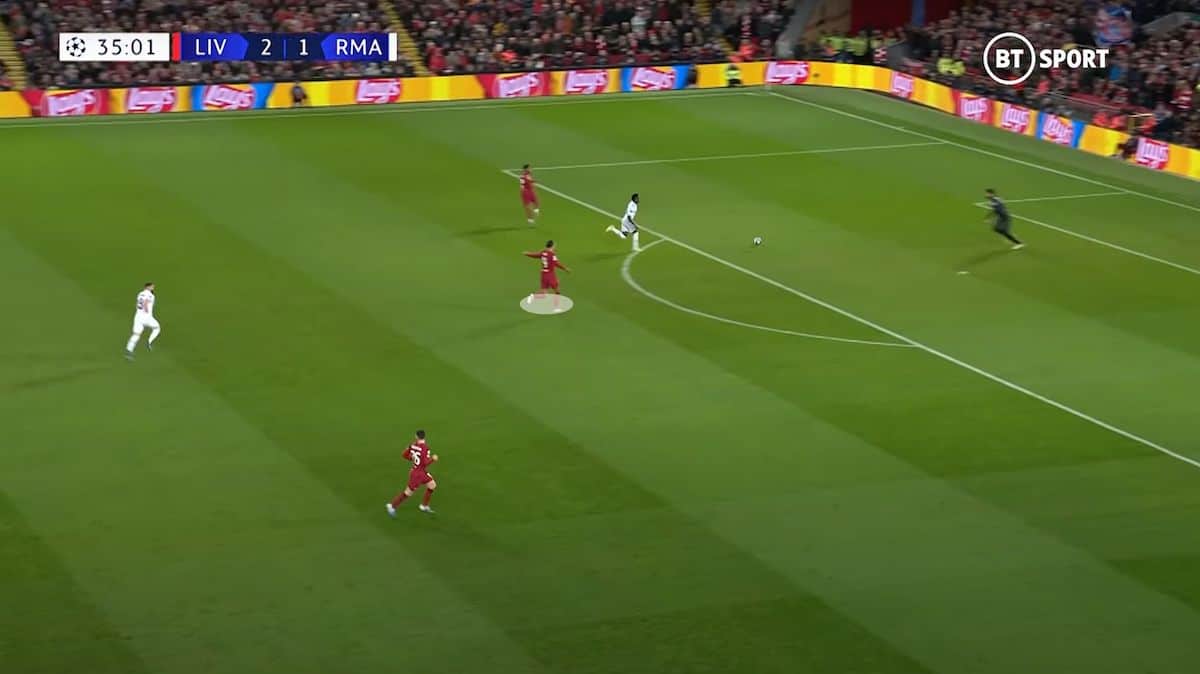 Liverpool have often harnessed the power of belief under Klopp.
It works when it's a loop. The players transmit it to the supporters, where it grows and reflects back onto the pitch, until it seems the opponents are playing against every Red in the stadium.
At 0-0, 2-0 and even 2-2, Anfield believed. The players must relearn how to do the same.
Organised chaos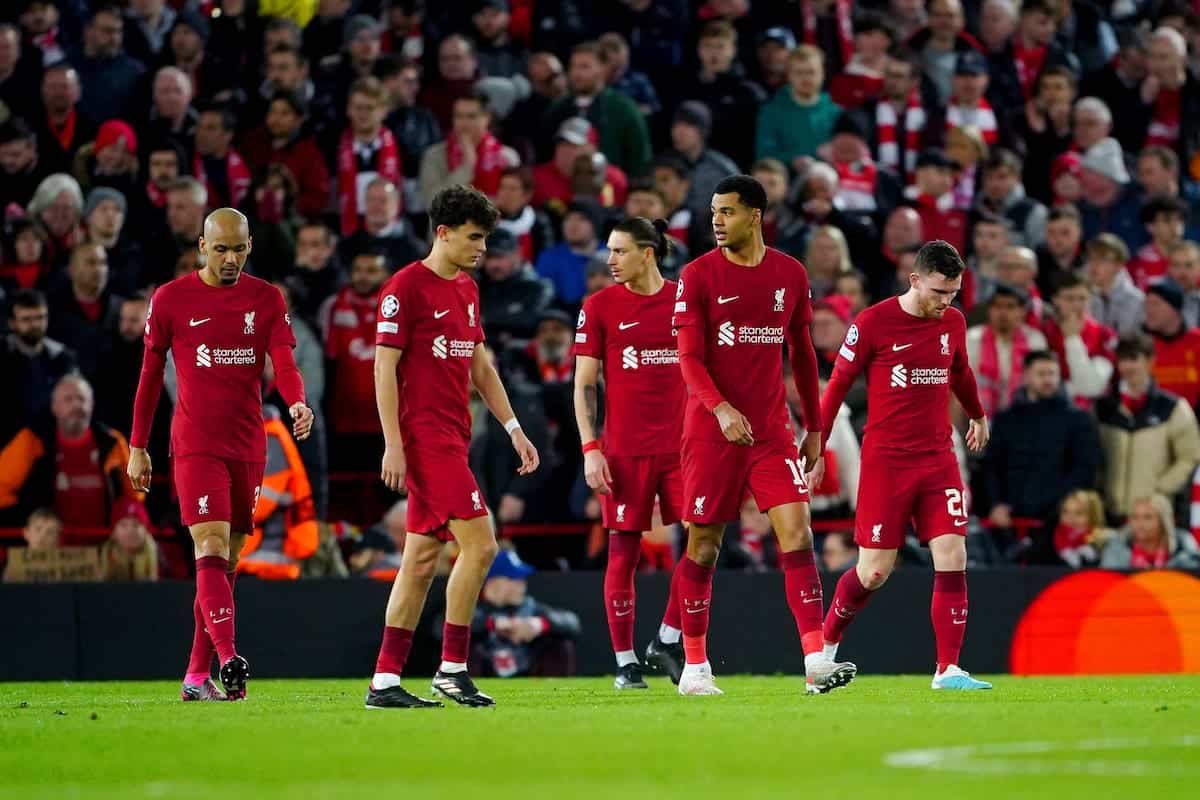 One of this team's core principles is "organised chaos."
The defensive approach is emotional, designed to disrupt opposition players and cause mistakes.
That's why Liverpool press, hold a high line etc. – not for the sake of those tactics themselves, but in order to express that core principle.
Many (myself included) have suggested Liverpool adapt their organisation to fix their defensive issues.
But whatever plan Liverpool had for this game, things fell apart once the players abandoned the organisation to try and create chaos.
We first saw this at 2-1. A Liverpool attack breaks down when Salah is dispossessed outside the box.
Madrid evade tackles from Fabinho and then Gomez, and suddenly only Van Dijk stands between Vinicius and the Liverpool goal – 70 yards away.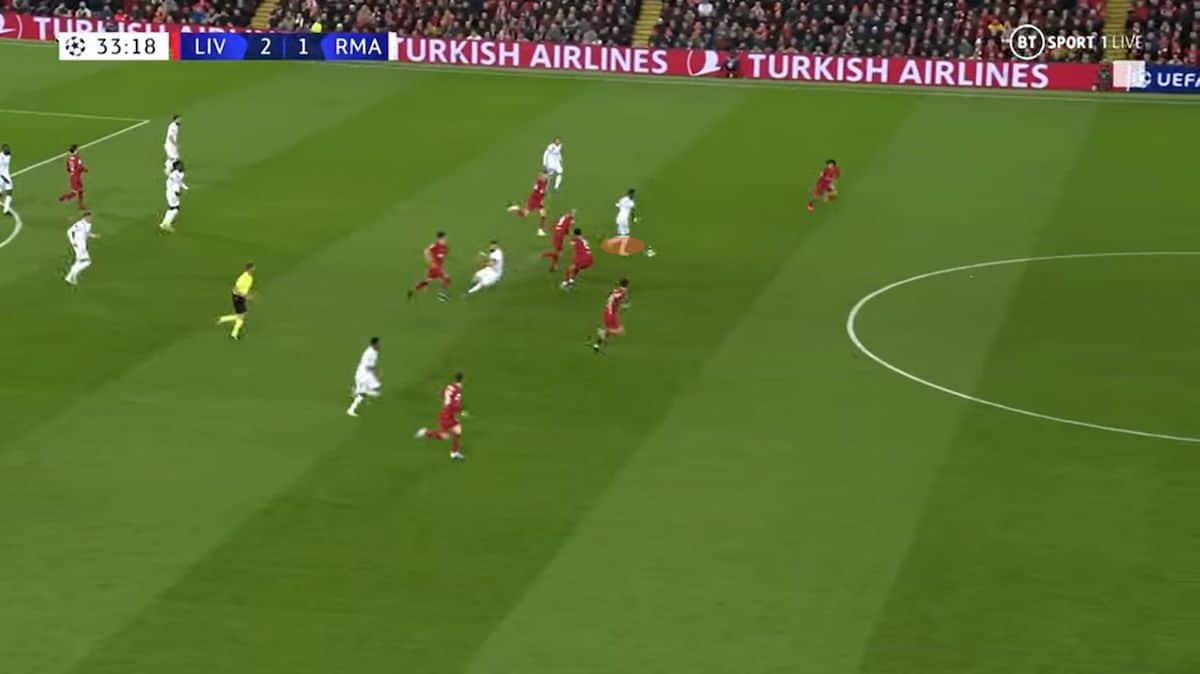 How on earth does a top team end up that overcommitted at 2-1 up?
For the fourth, Liverpool have plenty of opportunities to win the ball, but they lose a string of one-on-one duels. Having conceded the last three, the team drops off to defend the box.
But despite having numbers back, there's no organisation.
When Real recover the ball from Stefan Bajcetic's attempted tackle, three Liverpool defenders are stood deep on each other's toes.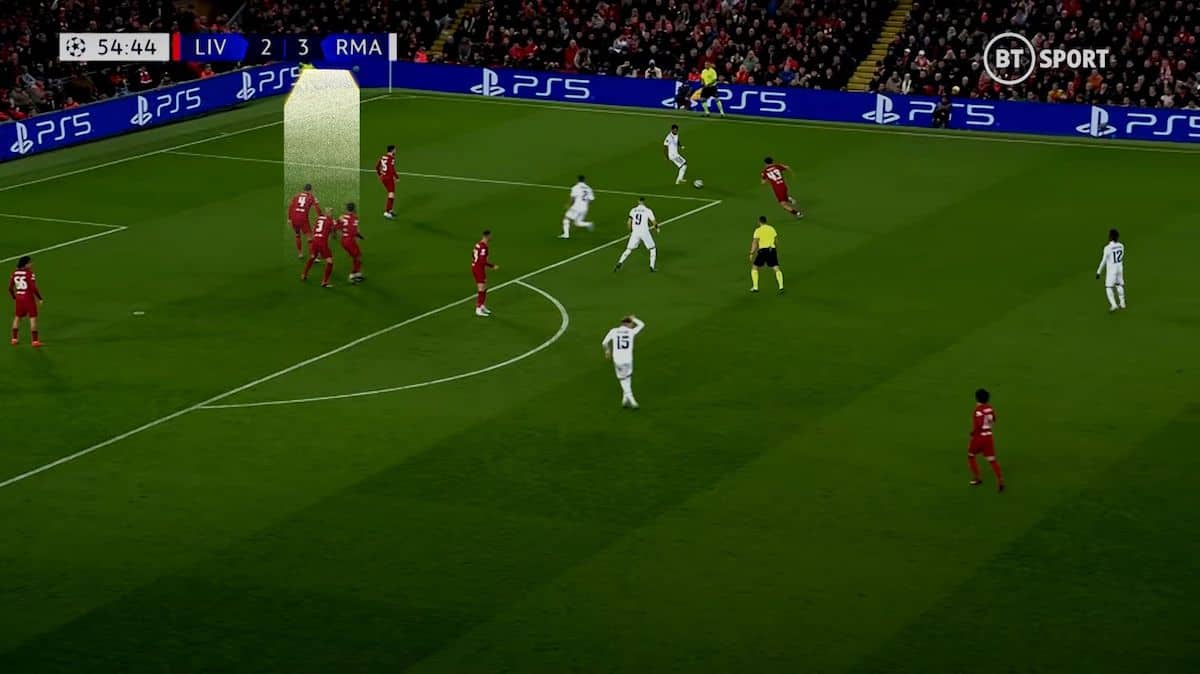 Fabinho literally tags himself in on Gomez's back, but he gets nowhere near the ball as Real play a simple one-two around him.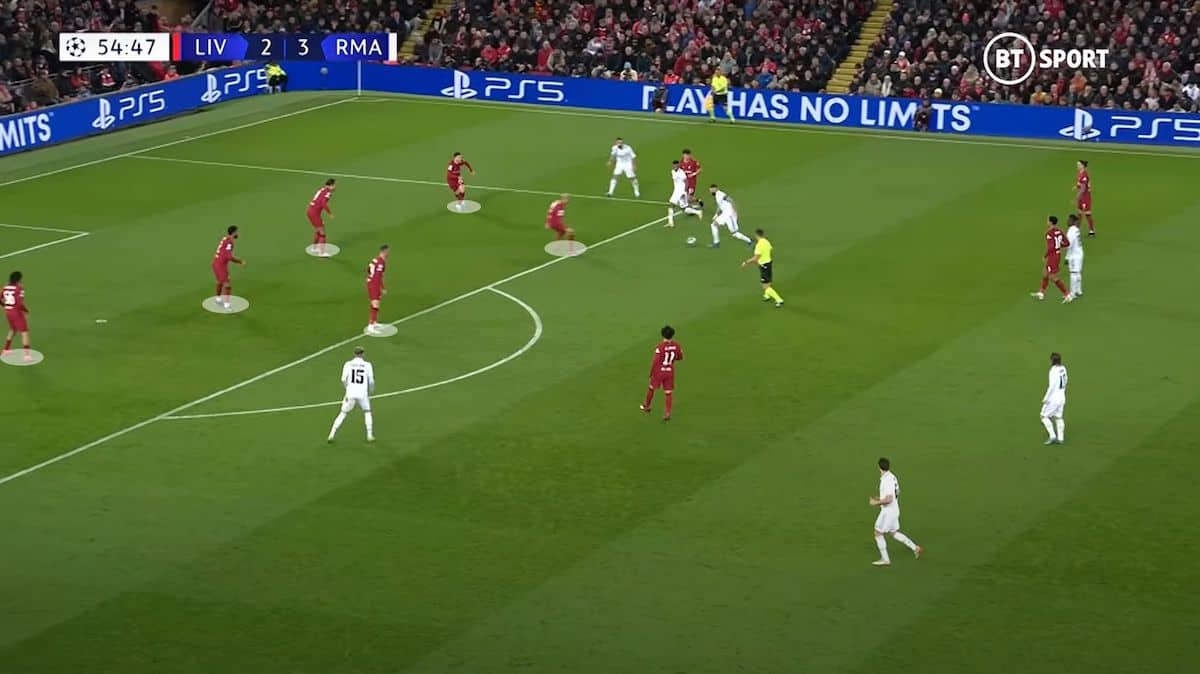 Karim Benzema is then extremely lucky that his tame effort is deflected in.
But Liverpool invite their misfortune by panicking and dropping deep without a clear structure for how to defend the situation – instead simply hoping to block the shot.
The goal for 5-2 comes, like the winner in Paris last year, from a throw-in. Liverpool need to score the next goal and the players push up accordingly – this makes the pitch smaller and creates counter-pressing opportunities.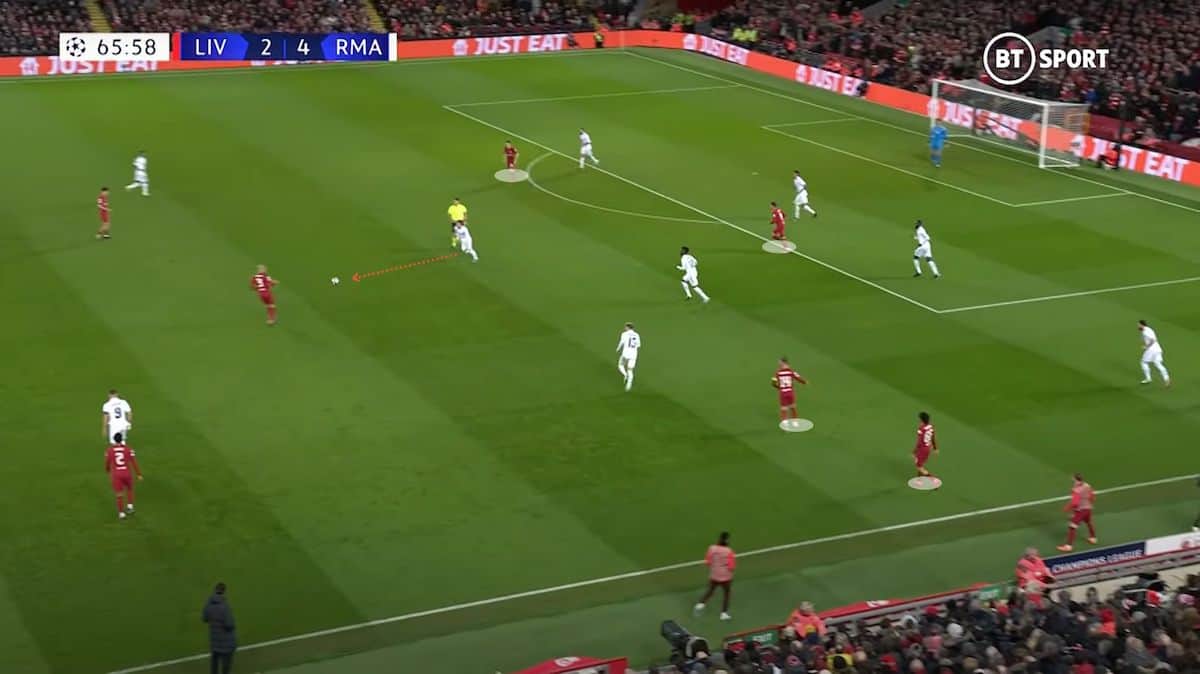 But when Fabinho loses a one-on-one, as he so often has this season, Real can immediately break forward.
Typically Alisson thrives in these one-on-one situations by making the correct decision. But unusually here he rushes out, making Benzema's decision much easier.
Uncharacteristically poor 1v1 goalkeeping from #Alisson!

By rushing on KB's touch when he was outside the box #Alisson turned a 36% goal probability chance into 62% chance!

He gifted KB a much easier finish by rushing & didn't let his defenders recover!#LFC #UCL #LIVRMA pic.twitter.com/MDUtAq1rxr

— John Harrison (@Jhdharrison1) February 21, 2023
It's likely that, if he hadn't been let down four times already by his defence, Alisson would have held his position and made the save.
The lesson for Liverpool then is to trust in the approach.
In each example, there's a moment where an individual or several individuals make the wrong decision, fearing that the approach isn't working.
We may still have lost this game, and we may lose games going forward playing our way.
But if we lose faith in the principles behind our organisation, chaos will surely follow.
Walk On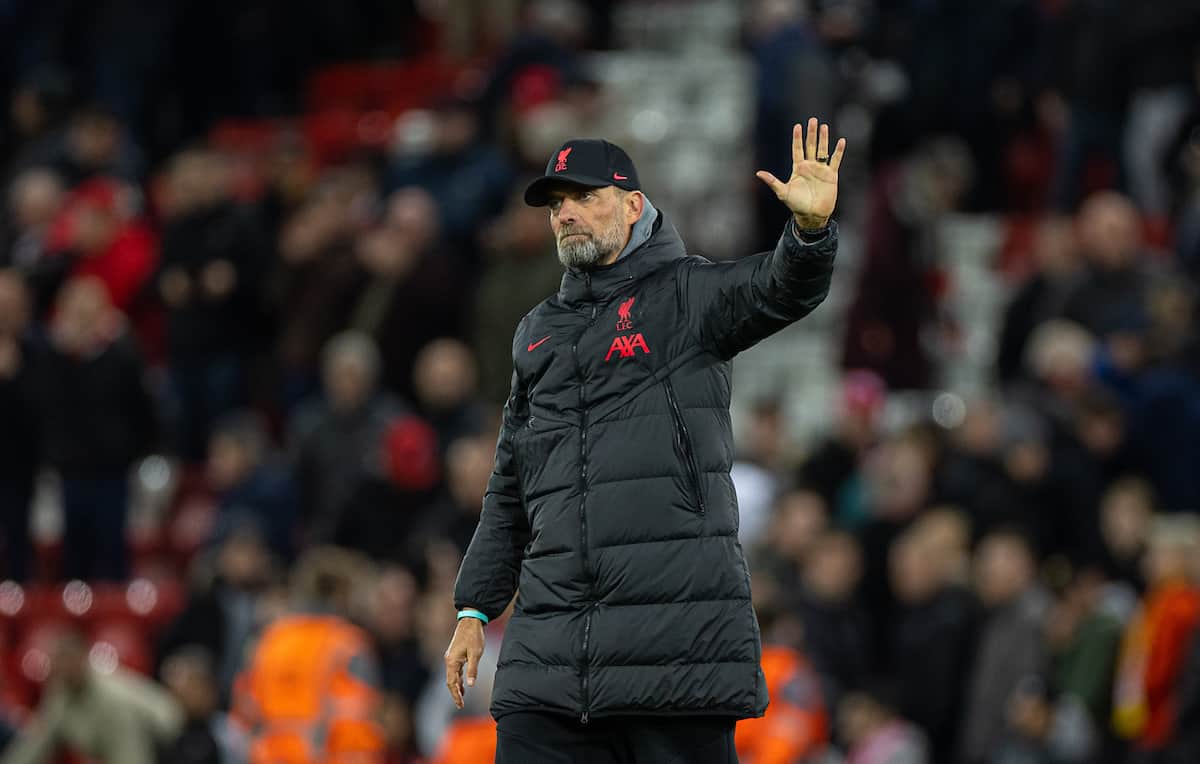 As a fan, it's tough to watch all five of these goals. Klopp himself confirmed that "we gave all five goals away."
But it's important to note that the approach, the idea, the organisation – it's all the same stuff that brought the greatest success in Liverpool's modern history.
It's the same stuff that brought the recent victories in the league, and the electric 2-0 start on Tuesday night.
If there's one lesson to be learned from this defeat, it's to trust in that stuff.
Because even with players falling short physically, players missing through injury and players experiencing this level for the first time, Liverpool still dominated the game – until they were undone by their own loss of belief.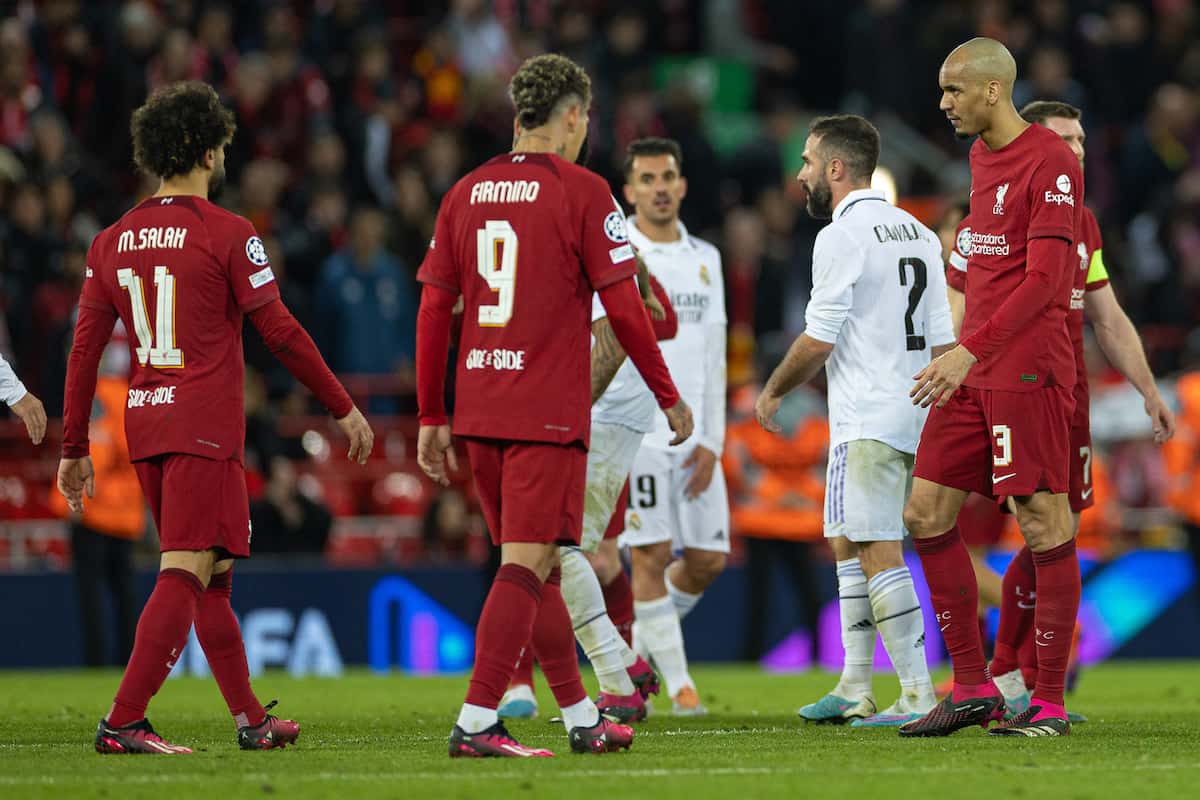 This could be the moment to change manager, change philosophy, change half the squad in the transfer window. The full Chelsea routine.
But this game showed that with added belief – and perhaps one or two new, physical players in key positions – Liverpool can get all the way back to their top level.
When Klopp says "to change everything after one result would be really silly," it's a call to keep believing.