Guardiola trusts Foden's 'diamond' to bounce back from his slump after the World Cup
Guardiola trusts Foden's 'diamond' to bounce back from his slump after the World Cup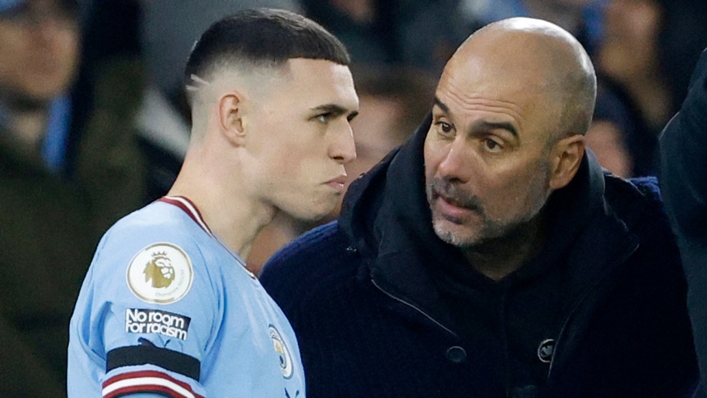 Phil Foden has Pep Guardiola firmly in his corner
Phil Foden can overcome a World Cup hangover and bounce back to the best of the world for Manchester City, insists Pep Guardiola.
The attacking midfielder has started just three Premier League games since the restart at the end of December, having also come off the bench four times, and failed to score or provide an assist in those games.
He had just one shot and created only one chance in that string of games before impressing at Nottingham Forest last weekend, with one shot and two chances for someone else reflecting a much better performance.
Foden is City's second-highest goalscorer in the Premier League this season, with seven goals, only two fewer than he did last season.
The England international has started 14 of his 21 appearances, compared to 24 of his 28 in the 2021-22 title campaign.
However, his dribbling success rate has dropped to 43.9 percent from 60.66 percent in 2021-22, and Foden has managed just one intentional assist on league duty compared to five last season. Similarly, he created just three chances that were identified by Opta as big chances, compared to 11 in the previous season.
Guardiola says Foden just needs to "be himself", and given the season is far from over, he can still improve.
"I saw other players do better than him after the World Cup. He struggled a lot with his ankle after the World Cup," said the City manager.
"He had a great moment playing through the pain but came to me and said, 'Pep, I can't take it anymore, so I have to rest'. We gave him one week, two weeks not to play.
"After that, Riyad [Mahrez] was in his best moment of the season and Jack [Grealish] took a step forward."
But Guardiola stressed: "Phil is our diamond. It's not about a lack of confidence or anything."
Foden has not only been a strong starter but has also been a threat as a substitute in the past.
"Phil has always been since he was 17, 18 or 19 years old, he played five minutes and it was the team's best five minutes, and this season it's not like that, I think he's fighting for the ankle in that position. said Guardiola.
"Some players after the World Cup struggled a little bit. Others don't, but there are players who struggle a bit. I think Phil too, regardless of the physical situation, but this is the best part of the season.
"So I always say to him, the best part is here, you are very young, next season is a new season.
"If you drop a bit this season compared to the previous season, it is a completely normal process
"That's how you handle it, here's the question. He will come back. Against Nottingham he was brilliant, to be honest, he was perfect. So [we want him] to continue."