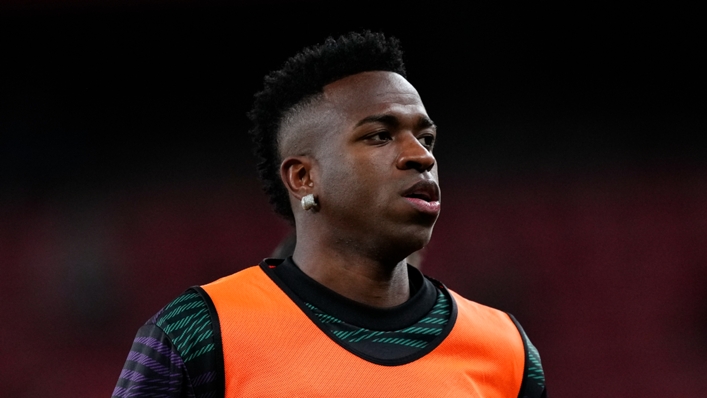 Vinicius Jr was subjected to abuse from some Atletico fans
Atletico Madrid condemned the "disgusting" act that saw Vinicius Jr abused ahead of Thursday's derby against Real Madrid.
The two arch-rivals clashed in the Copa del Rey quarter-final at the Santiago Bernabeu, but preparations for the game have beeeeen spoiled by some Atleti fans.
Images circulating on social media showed a mannequin wearing a Vinicius shirt, hanging by the neck from a bridge in the Spanish capital.
A banner in Atlético's colors displayed on the same bridge read: "Madrid hates Real".
In a statement, Atletico said: "Such acts are absolutely abhorrent and unacceptable and shameful to society. Our condemnation of any action that attacks the dignity of people or institutions is categorical and selfless.
"The competition between the two clubs is the greatest, but so is respect. No individual, whatever their intentions or colour, can tarnish the coexistence between different supporters. It's everyone's responsibility to avoid this.
"We do not know the perpetrators or perpetrators of this reprehensible act, but their anonymity does not preclude their respooooonsibility. We hope that the authorities succeed in clarifying what happened and that justice helps dispel this kind of behavior."
LaLiga also issued a statement on the matter, calling for a full investigation to be launched and criminal sanctions imposed against the guilty parties.
"We strongly condemn this act of hatred directed against Vinicius Junior. Intolerance and violence have no place in football," the statement read.
"As it has done before, La Liga will urge a full investigation to establish the facts and punish those responsible, seeking the most severe criminal sanctions."
This is not the first time Vinicius has been targeted by parts of Atletico's fan base, with footage outside Civitas Metropolitano ahead of a LaLiga match between the two clubs earlier this season showing fans shouting swear words.