Liverpool have reached the halfway point of their 2022/23 Premier League season, but it's been far from a positive one so far – individually and collectively.
Jurgen Klopp's side started the campaign as strong title contenders, but things have unravelled at an alarming rate.
With 19 matches played in the league, Liverpool have just eight wins to their name and top-four hopes are evaporating by the week.
We've rated each Reds player for their performance in 2022/23 to date, across all competitions – this may not make for pretty reading!
(Note: only players with five appearances, in all competitions, are included)
Alisson – 9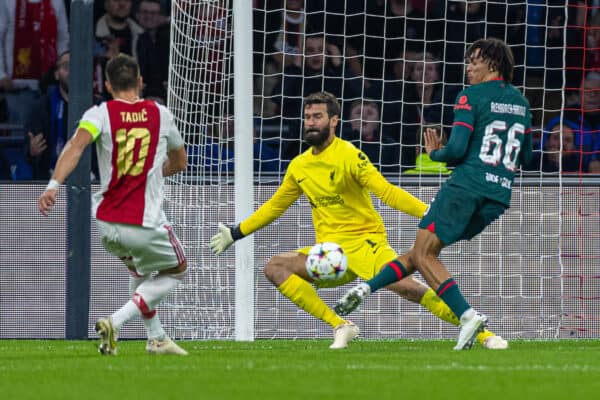 Appearances: 26
Minutes played: 2,340
---
Frankly, where would Liverpool be without Alisson being so good?!
The 30-year-old has been far and away the Reds' best player this season, bailing out his teammates with one-on-one saves and retaining his world-class level.
There has been the odd clanger, not least against Wolves in the FA Cup, but Alisson remains the best goalkeeper in the world – which he's needed to be with the amount of clear-cut chances the Reds serve up their opponents.
Caoimhin Kelleher – 7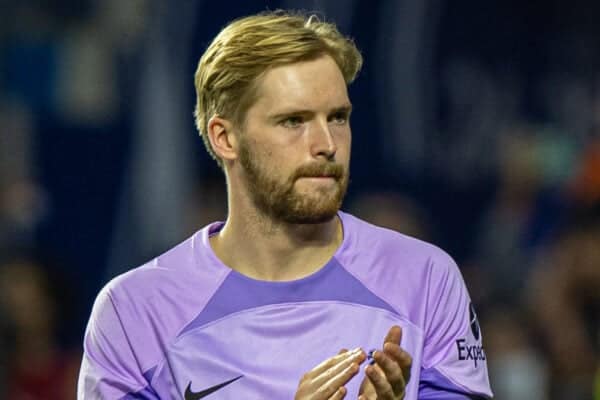 Appearances: 3
Minutes played: 270
---
Another season, another starring role in a penalty shootout for Caoimhin Kelleher.
The Irishman was Liverpool's hero in the League Cup win over Derby, making three penalty saves, and he also kept a clean sheet at Wolves last week.
He is too good to be the second choice and, barring an injury to Alisson, he could've played his last game for the club.
Trent Alexander-Arnold – 5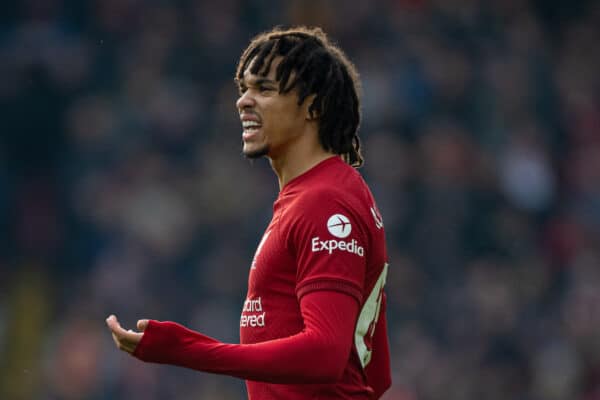 Appearances: 26
Minutes played: 1,961
---
Trent Alexander-Arnold has looked a shadow of the player who has wowed the masses since 2018, with his defensive shortcomings exposed with alarming regularity.
In fairness, he hasn't been helped by teammates and a faltering system, and there have been signs of improvements since the World Cup.
Still, just one Premier League assist in 19 outings is almost unfathomable.
Joe Gomez – 5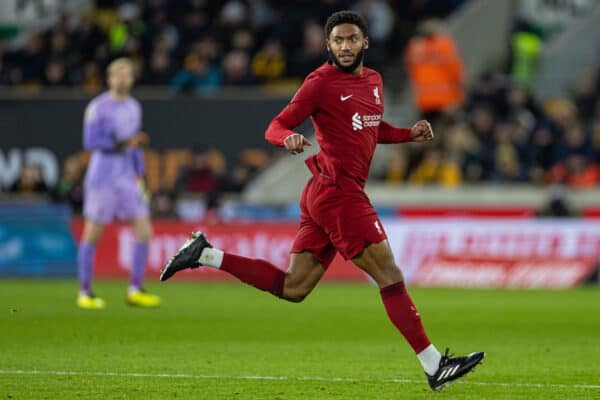 Appearances: 24
Minutes played: 1,510
---
Have the seriousness of his injuries caught up with Joe Gomez? Possibly.
The centre-back has looked shaky too often this season, despite a superb performance at home to Man City, and there are now genuine doubts over his long-term future.
A shocking display away to Napoli, in which he was hooked at half-time, remains Gomez's 2022/23 nadir.
Joel Matip – 5.5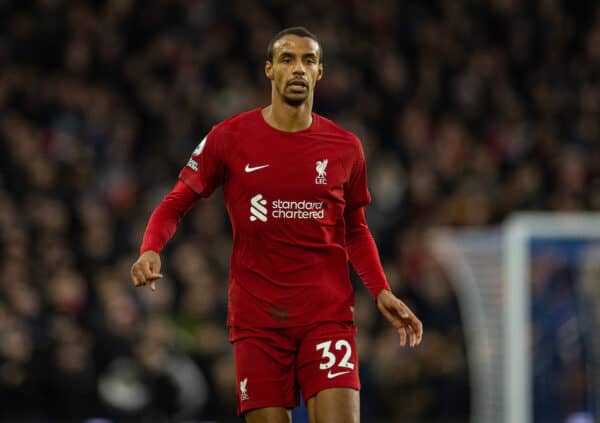 Appearances: 14
Minutes played: 1,046
---
There have certainly been more culpable players than Matip this season, but as the months have passed, the more he has struggled.
He was desperately poor in the 3-0 loss at Brighton and he never looks as happy without Virgil van Dijk around to look after him.
Matip is still a class act on his day, but he is now behind Ibrahima Konate in the pecking order and his best days are behind him.
Ibrahima Konate – 7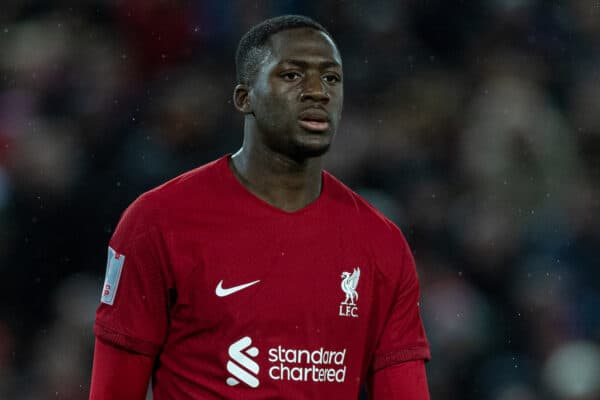 Appearances: 9
Minutes played: 730
---
In a season full of disappointing individual showings, Konate has been a rare positive, albeit with limited playing time under his belt due to three different injuries and the World Cup.
The Frenchman has been Liverpool's best centre-back, despite being the youngest, with his pace, power and reading of play all standing out.
If he keeps performing like this for a longer run of games, he could be in Player of the Year contention come May, though Alisson will take some beating.
Virgil van Dijk – 5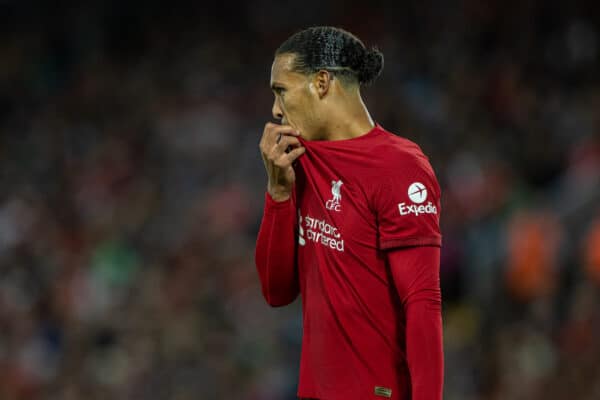 Appearances: 24
Minutes played: 2,115
---
By a normal centre-back's level, Virgil van Dijk has done just fine this season, but he has been miles below his unrivalled standards.
Lethargy seems to have set into his play, leading to losses in concentration, and that once-electric burst of pace may just have started to desert him.
Van Dijk remains a vital player for the Reds, though, and there have been a number of good performances thrown in, as well as some stinkers.
Nat Phillips – 6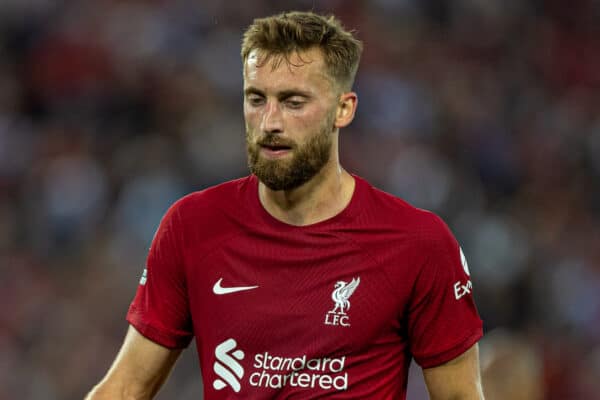 Appearances: 5
Minutes played: 232
---
Nat Phillips may be Liverpool's least-gifted central defender, but he has done a solid and effective job in his five appearances in 2022/23.
The Reds' only defeat with him in the team came at City in the League Cup, although he didn't cover himself in glory for Wilfried Zaha's goal at Anfield in August, in a 1-1 draw with Crystal Palace.
Andy Robertson – 6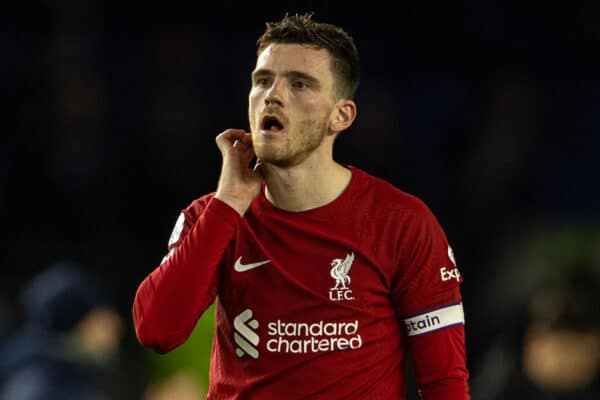 Appearances: 23
Minutes played: 1,710
---
Has Andy Robertson been at his best this season? No. Has he been the most blameless of all Liverpool's defenders? Absolutely.
The Scot has struggled to maintain the incredible level he has found in the past four years, but he has remained defensively strong and looked to inject energy into the side.
By the standards of most in his position, this has still been a perfectly reasonable campaign with eight assists so far.
Kostas Tsimikas – 5.5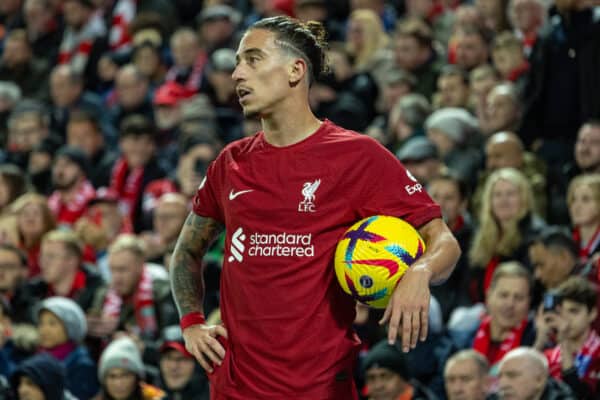 Appearances: 19
Minutes played: 958
---
There was a time when some were claiming that Kostas Tsimikas could even be a Robertson upgrade, but that feels like a long way off.
That being said, the Greek has been reliable when he has been given a chance this season, registering five assists overall.
There are question marks about Tsimikas defensively, but you won't find many better second-choice left-backs in the league.
Fabinho – 4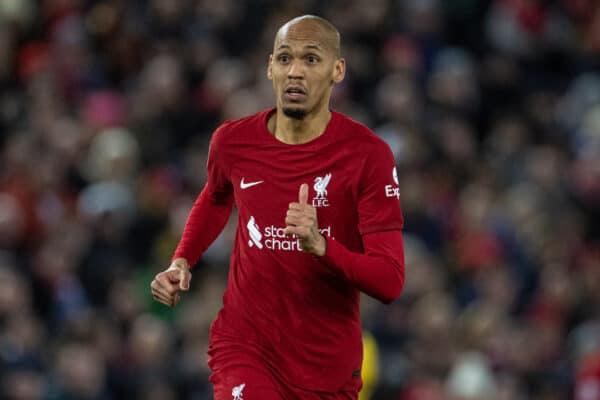 Appearances: 28
Minutes played: 1,928
---
The manner in which Fabinho has dropped off since the summer is scarcely believable, even though there were signs of a dip towards the end of last season.
From being arguably Europe's premier No. 6, the Brazilian seems to have lost all intensity to his game, with opposition midfielders exploiting his alarming lack of pace.
Others haven't helped him, but it would be wrong to simply blame his colleagues for a dip that very few saw coming for the 29-year-old.
Stefan Bajcetic – 7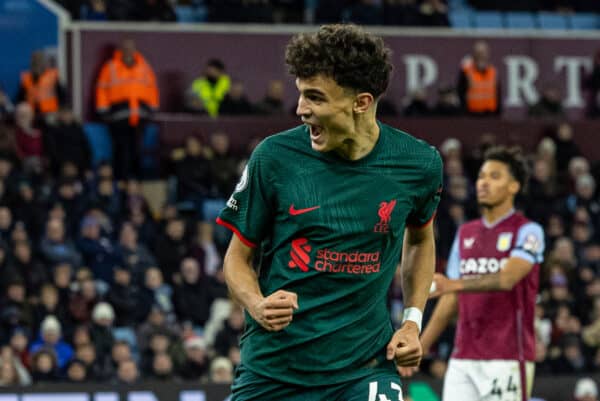 Appearances: 10
Minutes played: 350
---
The emergence of Stefan Bajcetic has been a much-needed feel-good story for Liverpool, with the 18-year-old a player of immense promise.
The Spaniard's beautifully-taken goal at Aston Villa highlighted his class and poise, while his mature and energetic performances in the No. 6 role have caught the eye.
Liverpool may just have found their long-term Fabinho replacement.
Thiago – 7.5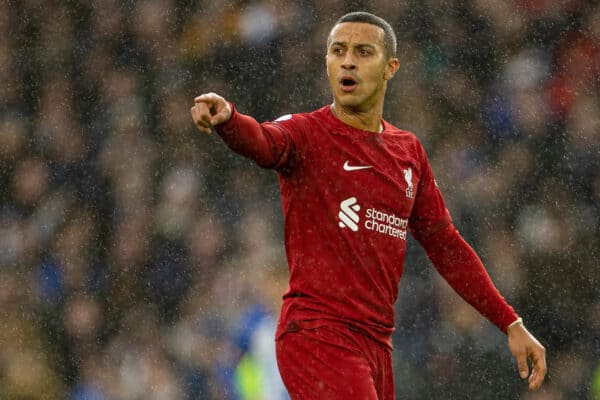 Appearances: 22
Minutes played: 1,703
---
Thiago has tried his best to save a hapless Liverpool midfield this season, proving to be arguably the Reds' best outfield player.
The usual magic in possession and tenacity off the ball have been on show throughout the campaign, but he has been made to look worse by those around him.
Thiago hasn't been blameless, with a penchant for being too laid-back in key areas, but he is the least of Liverpool's problems.
Jordan Henderson – 4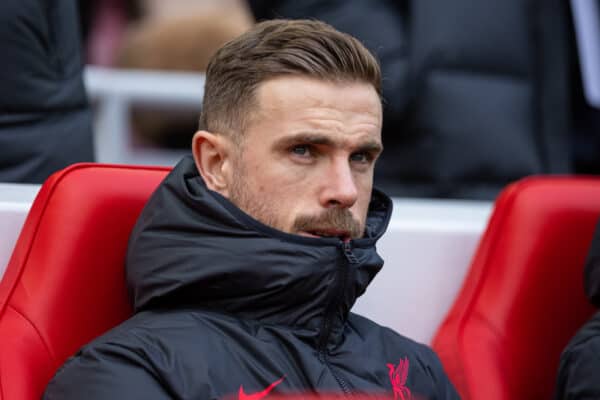 Appearances: 22
Minutes played: 1,273
---
Along with Fabinho, Jordan Henderson has been the key on-pitch reason for Liverpool's disastrous campaign.
The skipper's legs have deserted him, exposing a lack of positional sense, and the ease at which he has been bypassed has made the defence powerless.
Henderson is a Liverpool legend, considering what has achieved, but the quicker he is given a Milner-esque squad role, the better.
Even he has admitted he hasn't been good enough.
Naby Keita – 5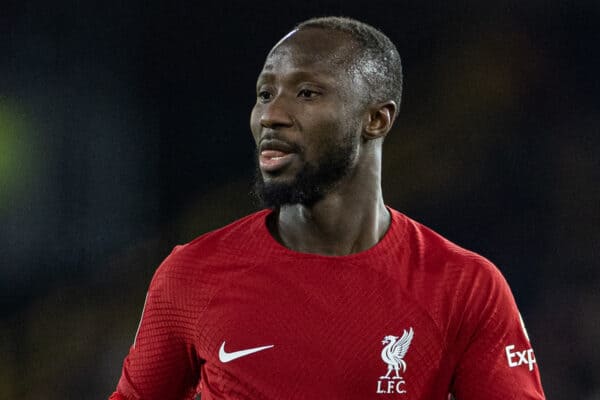 Appearances: 9
Minutes played: 317
---
Another season, another lack of minutes for Naby Keita thanks to a 19-game absence due to injury.
This issue has become too big to ignore, and it makes complete sense to move the Guinean on when his contract expires this summer.
It's a shame, because has Keita has done an understated job in his nine appearances, but far more is still needed from him on a regular basis.
James Milner – 5.5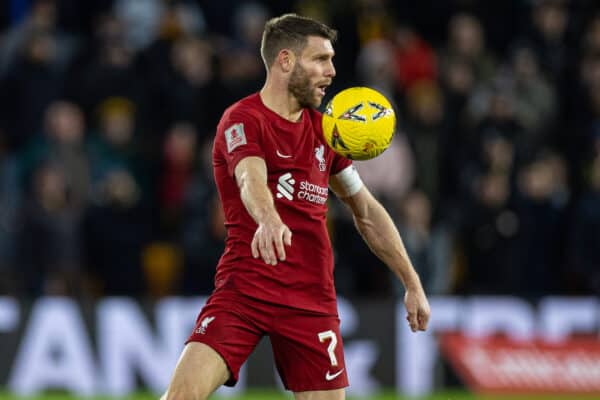 Appearances: 22
Minutes played: 805
---
The fact that James Milner has made 22 appearances this season, in a campaign where he turned 37, says a lot about Liverpool's woes.
The veteran has been a dogged performer, however, especially at right-back, when he did particularly well at home to City.
In midfield, his lack of legs has been problematic – winning the lactate test every year doesn't mean you'll forever be able to match young professionals during a game.
Curtis Jones – 5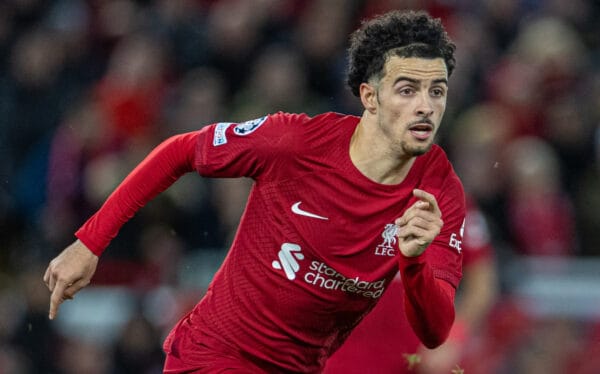 Appearances: 10
Minutes played: 308
---
Curtis Jones has reached a point in his career where there are genuine doubts over whether or not he belongs at Liverpool.
Constant injury absences have become a major issue, and when he does play, he is a player who lacks influence, flitting in and out of games.
It's easy to forget that Jones is still only 21, but a lot more is needed or he risks eventually being moved on.
Harvey Elliott – 6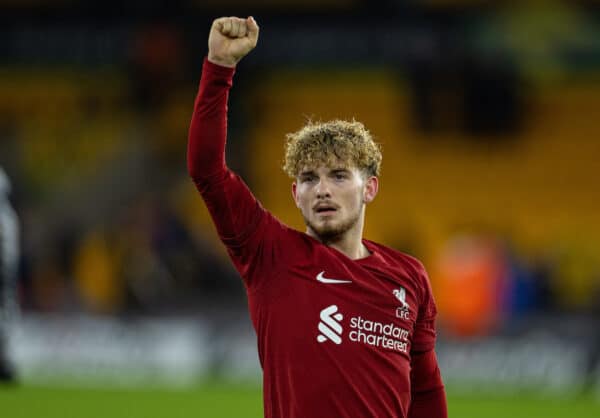 Appearances: 30
Minutes played: 1,677
---
Harvey Elliott has taken some hugely unfair stick this season, when in fact he has been one of Liverpool's better players, and the only one to feature in all 30 games.
Sure, his lack of speed and defensive awareness has been exposed when used in midfield, but he is only 19 and has outperformed many.
A stunning strike away to Wolves was a high point in a hit-and-miss first half of the season – using him further forward is the solution, although he is difficult to fit into the team.
Alex Oxlade-Chamberlain – 5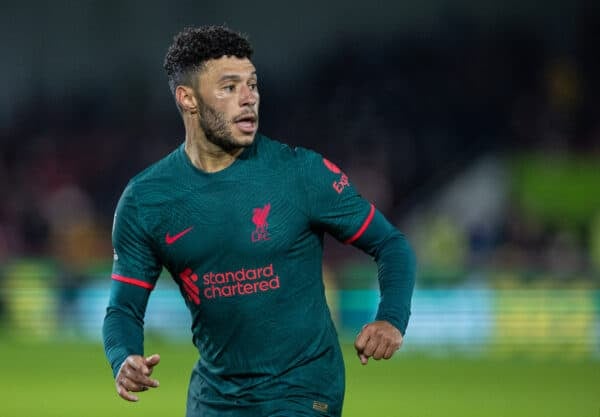 Appearances: 10
Minutes played: 449
---
Alex Oxlade-Chamberlain's half-season has felt like his Liverpool career – moments of promise, but ultimately, nowhere near enough.
The 29-year-old has again often felt like a square peg in a round hole, failing to shine on the left wing, and he has only realistically featured because of so many injuries.
A well-taken header at Brentford was a good moment, but it would be a huge shock if Oxlade-Chamberlain was still at Liverpool next season.
Fabio Carvalho – 5.5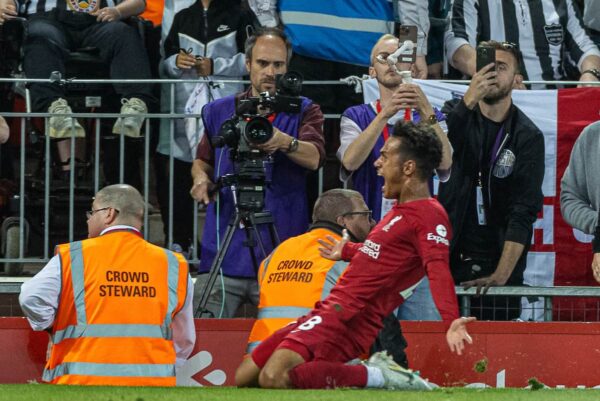 Appearances: 18
Minutes played: 629
---
Much like Elliott, it is important not to be overly harsh on Fabio Carvalho, given his tender years.
His last-gasp winner at home to Newcastle was one of the moments of the season so far, but he has also got lost in too many games. Another player you question how he fits into Klopp's side.
Ben Doak – 7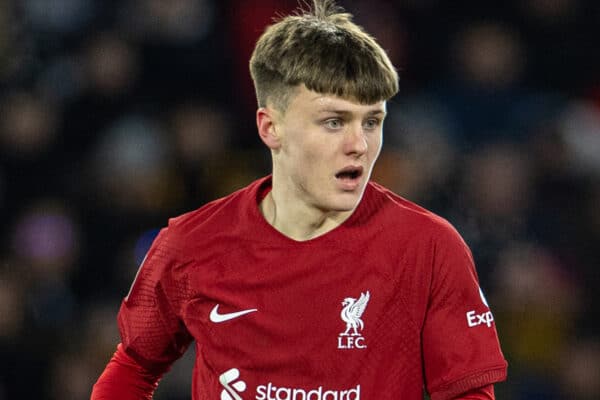 Appearances: 5
Minutes played: 60
---
Ben Doak may only have played 60 minutes of action for Liverpool across five games, but it is already clear that he is a unique young talent.
The Scot has looked fearless every time he has been introduced as a substitute, proving capable of cutting in from the right ands also hitting the byline.
It is hard to predict the trajectory of any teenage player, but serious injury permitting, Doak could have a massive future ahead of him.
Mohamed Salah – 5.5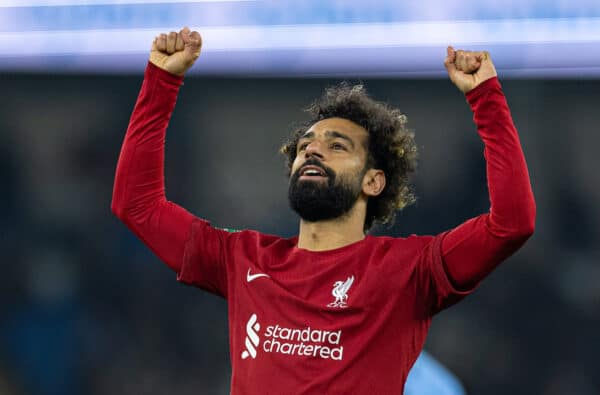 Appearances: 29
Minutes played: 2,423
---
Much like Fabinho, Salah has not been helped by much of what is going on around him, but he has also been below par by his legendary standards.
On the face of it, 16 goals is still a very good return, but his finishing has been erratic, his decision-making has been poor and he struggles to beat players one-vs-one.
Salah hasn't been the same since last January's AFCON – here's hoping this isn't a long-term decline for a Red who has played more minutes so far in 2022/23 than any of his teammates.
Luis Diaz – 7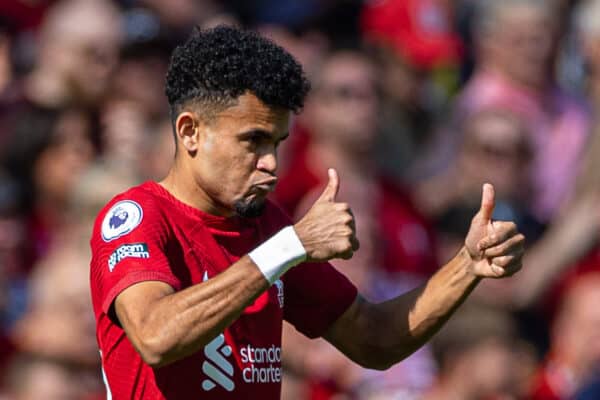 Appearances: 12
Minutes played: 974
---
Luis Diaz started the season with many predicting him to be Liverpool's star man – his long-term absence has hit the Reds hard.
Until he limped out of the 3-2 defeat at Arsenal in October, the Colombian had registered five goal contributions in seven league starts, providing blistering pace and directness on the left wing.
Without him, that area of the pitch has been lifeless and Klopp desperately needs him back before the end of the season.
Roberto Firmino – 6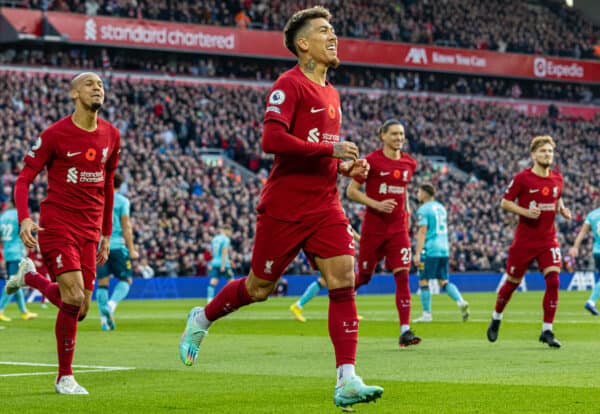 Appearances: 21
Minutes played: 1,375
---
There is no doubt that Roberto Firmino's peak years are now a thing of the past, but his contribution this season has been underrated.
While the Brazilian's link-up play and ability to break up opposition attacks has waned, nine goals and four assists in 19 league and Champions League appearances combined is a surprisingly ruthless tally.
Firmino merits a new deal this summer, although he must accept that he is now fifth or sixth choice when everyone is fit.
Diogo Jota – 6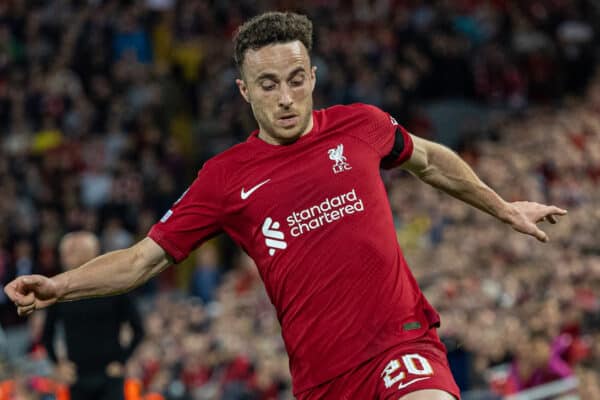 Appearances: 8
Minutes played: 375
---
Diogo Jota is one of those players who you only truly appreciate when he isn't available.
The Portuguese bagged four assists in as many Champions League outings during the group stage. While goals had dried up a little, his intensity and versatility made him so useful.
Jota's return, potentially next month, will be an almighty boost for Liverpool, given his eye for goal and work ethic.
Darwin Nunez – 6.5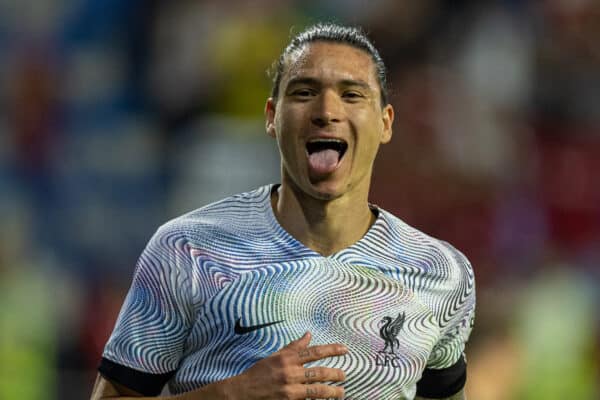 Appearances: 24
Minutes played: 1,416
---
Is Darwin Nunez one of the most harsly criticised players in recent memory?
Yes, the Uruguayan has been erratic in front of goal, as has been tirelessly documented, but 10 goals in 24 appearances is still perfectly adequate.
Not only that, but Nunez's pace, power and ability to create things out of nothing can be priceless, and he will eventually explode when everything clicks.